What is a Website Builder Software?
If you are trying to create a small blog or website to promote your business, you should give website builder software a try. Website builder software contains tools that allow anyone to create and manage websites without writing code manually. With the right website builder, you can easily create a fantastic logo design for your business or social branding. This makes website builder software perfect for beginners and individuals who need websites done but cannot afford to hire a developer or development team. The market is flooded with plenty of website builder software options, with various sophistication and automation levels. This makes it a little difficult to select the right software for your project. In this article, we'll describe and compare some of the most popular website building software to help you select the perfect one for your website.
Features of Software Builder Software
While there are numerous tools you can use to develop websites without manual coding, they all share a few traits. Here are some of the common features in most of them:
List of Website Builder Software
Here is the handpicked list of website builder software to choose as per your requirement: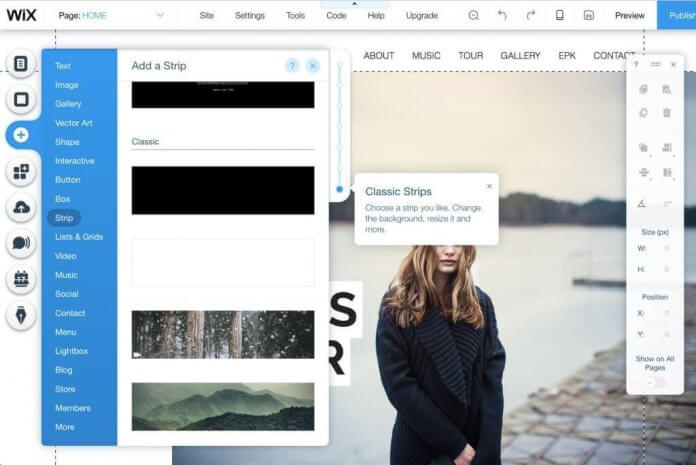 Wix is a cloud-based website builder that combines ease of use with powerful templates that make website development a breeze even for the most inexperienced individuals. Wix is fully cloud-hosted, so you don't have to worry about hosting fees. This tool uses a drag-and-drop editor with hundreds of customizable templates that make the process of building your website easy and intuitive. The Wix dashboard also gives you plenty of apps and add-ons that you can install on your website to add some functionalities. As a beginner, you can use Wix for free, although there are paid plans if you're looking for larger storage and bandwidth. For as little as $9.16 per month, you can connect your website to a custom domain, making Wix ideal for professional web development.
Wix website builder software provides visually impressive themes and custom layouts for small businesses, restaurants, online stores, musicians, and photographers. It is also optimized for mobile devices.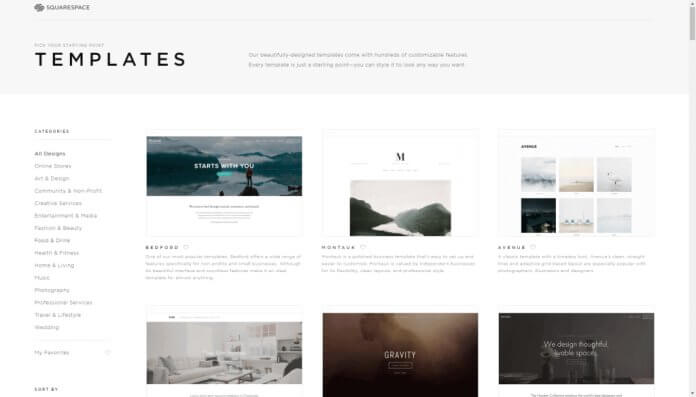 SquareSpace is a thoughtfully designed, highly intuitive visual website builder that is excellent for podcasts, portfolios, blogging, galleries, and plenty of e-Commerce applications. While it comes with stunning templates and tons of useful professional features, SquareSpace has a learning curve and is recommended for those with some knowledge on the design and layout of websites. SquareSpace's clean, modern templates have a highly perceptible look and feel, with bold typography, incredible galleries, and white space. This makes SquareSpace highly popular with creatives trying to showcase their talent. The service provides most of the tools you'll need for Search Engine Optimization (SEO), ensuring you get maximum visibility. These tools include Meta Titles & Descriptions, Accelerated Mobile Pages (AMP) Support, Responsive Pages for 'Mobile First' SEO, Custom URLs, and among others.
SquareSpace offers four pricing plans: Personal ($12/Month), Business ($18/Month), Basic Commerce ($26/Month), and Advanced Commerce ($40/Month). These options come with varying levels of support and features, and SquareSpace is honest with their costs. You can start by using a 2-week free trial before committing to a plan that suits your project needs. SquareSpace integrates seamlessly with major third-party platforms, including Amazon Affiliates, G-Suite, Typekit, Mailchimp, Apple Pay, 500px Block, OpenTable Block, and SoundCloud Block, among others. While not the easiest to use, SquareSpace is intuitive and professional, making it a great option for most small and medium-sized businesses.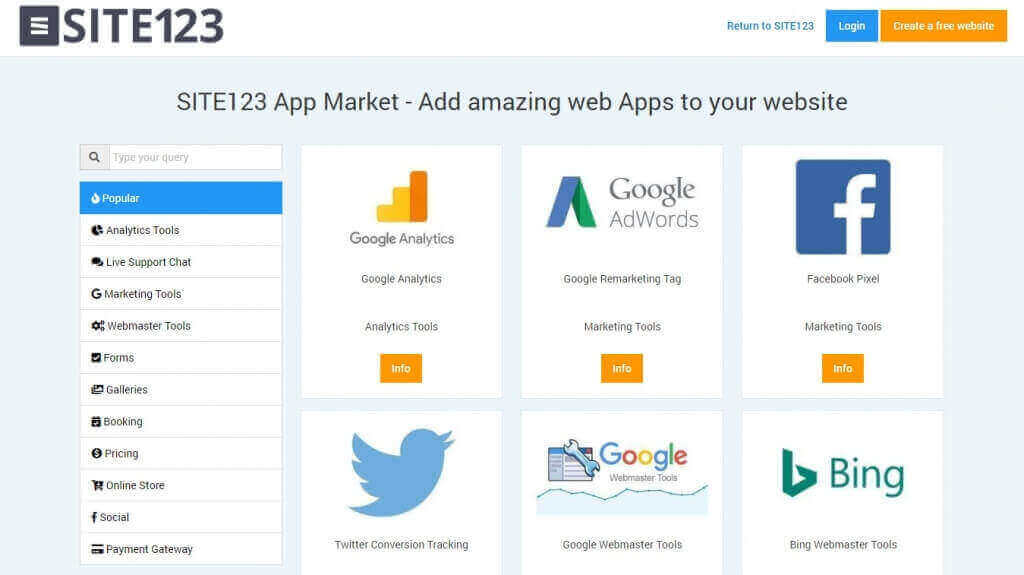 Site123 offers a no-fuss, minimal, and intuitive set of tools to help you create websites in a matter of minutes. Just like its name suggests, Site123 lets you create your site in three simple steps: select a design style you'd like, add content, and launch your site. The designs are divided into various categories broken down into niches, which simplifies your process since Site123 suggests templates based on your selected category. Site123 offers various pricing options, including a free trial that lets you try out all the features, then upgrade if you love the offering. Within the first year, Site123 offers a free domain and the ability to create various email accounts. However, the free plan automatically includes Site123 advertisements that you can only get rid of by upgrading to an advanced plan.
Site123 is available in more than 20 languages, allowing you to translate your website and add up to 5 languages to your project. You will, however, need a paid plan for this functionality. Site123 does not offer the option to add HTML code or banner code into your site, but you can add affiliate links into your content. While it offers you up to 270 GB of storage, you cannot back up or restore your projects on Site123. You get basic SEO tools like the advisor and sub-domain options for the easiest site indexing. You get an internal statistics tool so you can understand your visitors' preferences. Site123 offers incredible support, with FAQs, chat and email support.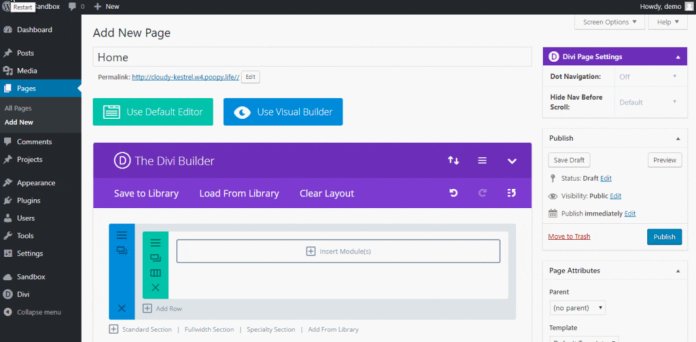 WordPress is a Content Management System(CMS) that powers both back ends and front ends to help you build your website easily. WordPress is written in php and uses MySQL for the database, making it a favorite with developers and anyone looking to create a stunning blog, eCommerce website, Portfolio, forum, or business website. WordPress software is open-source and free for anyone to download, but users pay for domain names and hosting. There's no single entity that owns WordPress, and it runs on a GNU General Public License (GPL). The software is grown by a thriving community of developers, and anyone can join the community for innovative contribution.
WordPress is compatible with most programming languages, but you won't need to know how to code in any of them to create websites. This is because WordPress comes with plenty of highly customizable themes you can apply to manage the look of your website. You can extend the functionality of your basic WordPress software by using plug-ins that add more features. Additionally, those looking to tackle serious projects can purchase paid themes and plug-ins that include extra features. WordPress is so easy to use and popular that over 27% of websites have been created on the platform.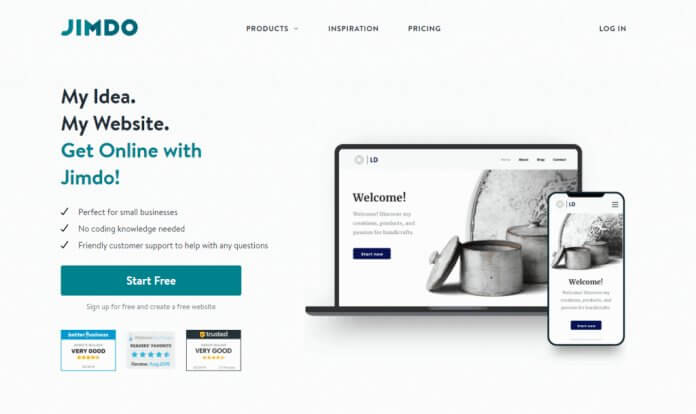 Jimdo offers an affordable way to create simple websites without ads. Created to provide unmatched ease of use, Jimdo is attractive for freelancers, small business owners, and online merchants. Jimdo offers two methods of creating websites: the Jimdo Creator, which is best suited for those with coding experience, and the Jimdo Dolphin for the perfect no-code experience. Jimdo gives you three pricing options: JimdoFree that requires no fees, JimdoPro which offers ad-free websites at $10 per month and JimdoBusiness for $20 a month, suitable for larger applications. All paid plans give you a free domain for a year. After that, the domain name will cost you $20 annually.
Jimdo uses an intuitive editor that is easy to use, even for absolute beginners. You can add, edit, resize, and place elements in a few short clicks. Jimdo's back-end lets you control page elements so that you can optimize your website for search engines. Jimdo also uses SSL-encryption and a ranking coach tool to improve your site's search rankings. You also get widgets that let you add functionality to your site and integrate social media services. Jimdo lets you manage your sites on your phone through applications available for both iOS and Android.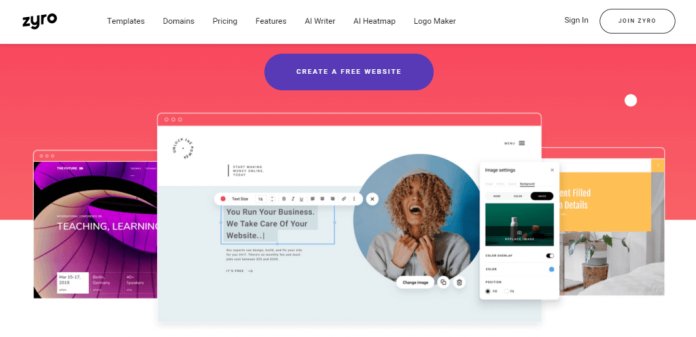 With Zyro, you can build and deploy lightweight commercial websites with little effort and time. Zyro comes with exciting features, such as a copy generator and a logo-building tool, meaning you can create all you need for your website without needing any professional help. It comes with several pricing options: the free package that comes with ads and 500 MB storage, the $4.99 per month option offers 10GB storage, a wider number of templates, many integrations, and custom domains. With the premium service, you pay $6.99 monthly and get unlimited storage, free 1-year domain hosting, Google Analytics, and Live chat, among others.
Zyro also offers 2 eCommerce packages for larger businesses. These plans include all premium services but also include inventory management, order tracking, online payments, and many other features geared toward business development. The Ecommerce Basic package costs $19.99 monthly, and the E-commerce + package will cost you $28.99 monthly.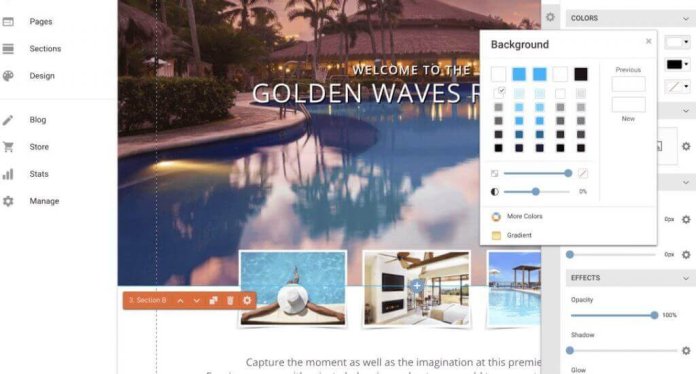 HostGator offers various services for hosting and developing websites, including the Gator Website builder that lets you easily personalize your website. HostGator offers you three pricing options: the Starter at $3.86 monthly, the Premium at $5.99 monthly, and eCommerce at $9.22 per month. All these plans give you access to unlimited storage and limitless bandwidth. HostGator's website builder offers over 200 professional templates that are mobile-friendly so that you can develop responsive web pages with little website development experience.
HostGator's website builder has an intuitive, easy-to-navigate interface, with an extensive yet minimal dashboard that makes structuring your website easy. You can easily move, readjust, and change your templates on the simple drag and drop interface. The solution lets you add images and videos to galleries, with various options for transitions, animations and layout. Every page you create comes with an SSL certificate to keep your site secure. HostGator supports a large number of third-party social media integration, making it perfect for most service-based websites.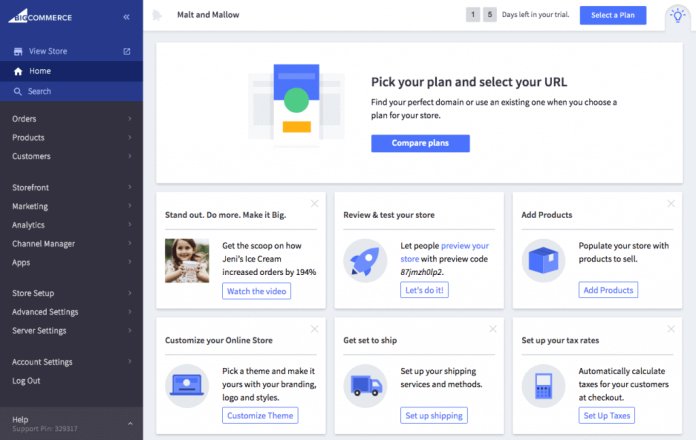 BigCommerce is a Software-as-a-Service platform that allows businesses to create online stores where they can trade their products on their sites. This makes it highly popular with inexperienced business owners since they only require a browser and an internet connection to manage their stores. BigCommerce has four monthly pricing options: the Standard at $29.95, the Plus at $79.95, the Pro at $299.95, and the Enterprise, whose price may vary with business needs. You get the option to get a 15-day free trial that you can use to check whether BigCommerce is right for you.
BigCommerce gives you a choice of 12 templates that you can tweak to create stunning web layouts. You can easily calculate shipping and tax rates for your products, and BigCommerce lets you sell an infinite number of products, both physical and digital. BigCommerce also gives you two payment options for your services: Braintree-powered PayPal and Stripe, both of which enable up to 38 payment gateways. BigCommerce is specialized for eCommerce, making it perfect for online stores and other digital merchants.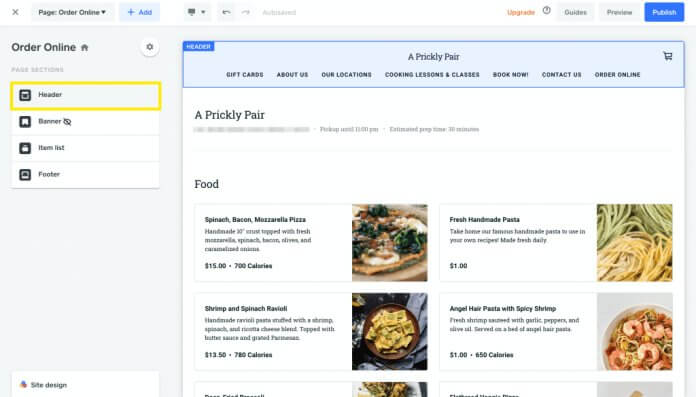 Square Online is a powerful web-builder tool built specifically to help brands connect with customers and make sales online. This service offers responsive design templates that adapt to all displays, making your website visible on any device. One of the greatest advantages of Square Online is that you need no upfront fees to start selling; you start paying the moment you make sales. At the modest fee of 2.9% plus 30 cents for each transaction, Square Online is highly popular with developers of eCommerce websites. Square Online is a web-based SaaS service and does not include apps or installers for Windows and Mac computers.
Square Online integrates seamlessly with SquarePOS, a Point-of-Sale solution that syncs your inventory, items, in-store orders, and online platform. You can easily connect your online store with your Instagram so shoppers can view your products right from their feed. You can also tag products stored online to your Instagram posts so that people can shop straight from the social media platform. Square Online also offers plenty of Customer Relations Management (CRM) tools that include a client database and email list so you can keep connecting with your clients. Therefore, Square Online is one of the most popular eCommerce website builders for small businesses looking to boost online sales.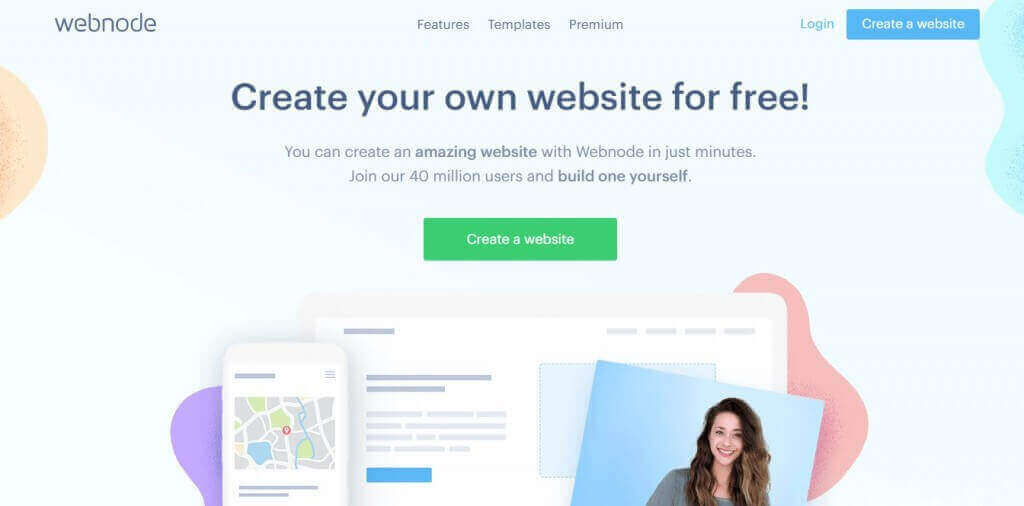 Webnode is an intuitive website builder that helps you create eCommerce sites, book a domain name, and create & manage various email accounts. This makes it ideal for anyone looking to develop a website for personal or business use. It uses an intuitive drag-and-drop web editor that lets you layout your website in no time without writing a single line of code. Webnode gives you over 100 types of well-designed, responsive templates grouped in 8 product categories, so you can always find one that suits your needs. Webnode, however, offers fewer customization options, so you'll need to choose your templates wisely.
Webnode comes with plenty of features to support eCommerce functionality on your website. You can easily outline your product's description, including promotions, and track your inventory. Webnode is also able to duplicate your website settings and content, and you can translate it into any programming language. The platform also offers plenty of SEO tools that can help you optimize every page on your website for maximum visibility. The Webnode HTML Header code field lets you add tracking IDs for indexing tools, improving your search ranking. There are four pricing options for Webnode: the Limited plan going for $3.90 monthly, the MINI for $7.50 monthly, the Standard for $12.90 monthly, and Profi for $22.90 monthly.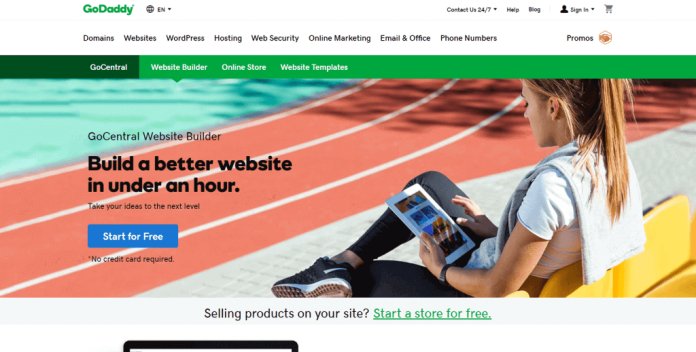 GoDaddy lets businesses establish an effective, memorable online presence. Their website builder, Websites + Marketing, is simple, quick, and modern, letting anyone create stunning websites in no time. GoDaddy comes with a well-structured editor that makes adding and removing elements quick and easy. The themes and designs are optimized for mobile, allowing even absolute beginners to create responsive web pages. GoDaddy offers four payment plans: the free plan, the Basic plan for $10/month, the Standard plan for $15/month, the Premium plan for $20/month, and the E-commerce option for $25 that includes online commerce features.
GoDaddy comes with an inbuilt email marketing tool, social media content creator, and blog editor that lets companies connect with clients. When you create your website, GoDaddy suggests themes based on your products and lets you customize a selected theme using the simple drag-and-drop builder. All your pages contain a GoDaddy banner ad, which you can remove using one of the paid plans. Paid plans also allow you to use a custom domain name. GoDaddy supports various widgets that let you enhance your website's functionality by adding various third-party tools. You can easily create backups and restore functionality using the Site History feature.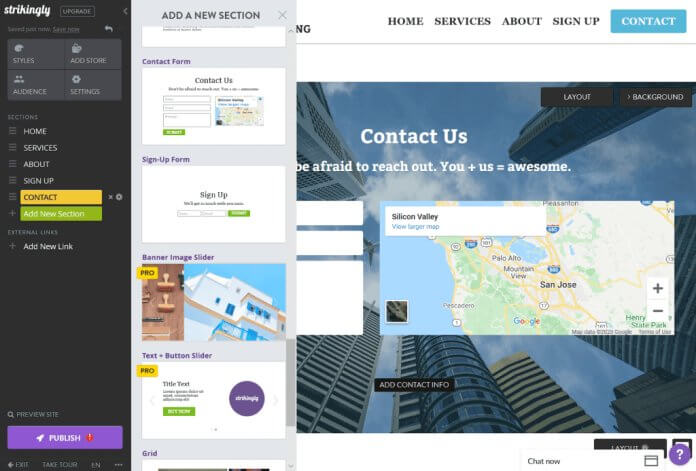 If you'd want to build a single-page website without having to master any programming language, then strikingly is the right tool for you. Dedicated to complete beginners, this tool offers brilliant customer support and sleek design templates at highly affordable prices. The templates come with dummy text and stock images, so your website design process simply involves editing text and replacing images, making Strikingly one of the easiest website builders to use. This focus on simplicity, however, stifles flexibility and creativity since there is only so much you can do to customize a ready-made template. This makes setting up your website ultra-fast, but you have to contend with the limited styling options offered by existing templates.
Strikingly offers plenty of blogging tools and features that include social bookmarking, the RSS feed, analytics, and a comment section so you can connect with your site's visitors. Adding a blog to your site is as easy as clicking "Add New Feature" on your side menu and selecting "Simple Blog". Strikingly also offers the Simple Store feature that lets you create an eCommerce platform. Strikingly gives you an impressive range of templates with various add-on options that let you customize your website by industry. Aside from the free lifetime trial, you get three pricing plans with Strikingly: the Limited plan for $8/month, the Pro plan for $16/month, and the VIP plan at $49/month. Each of these plans gives you the best value for money, as strikingly offers some of the most cost-effective pricing plans for web builders.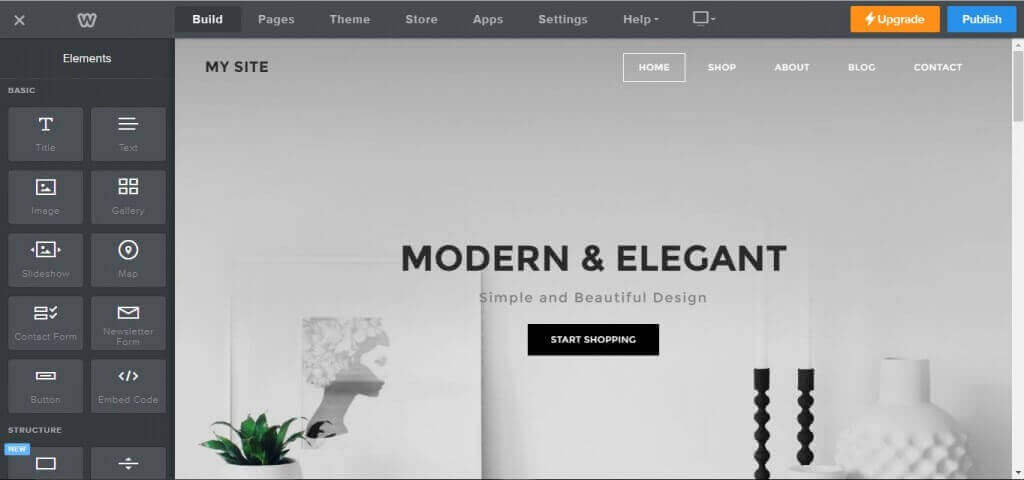 Weebly is a website builder that combines powerful development tools with a simple drag-and-drop interface that lets you build your website quickly and easily without development knowledge. Weebly offers dynamic design elements, like video backgrounds and custom logos that immediately establish a connection with your website's visitors. Weebly also allows you to professionally edit and set your photos without having to use image-editing software. With over 50 million websites built using the platform, Weebly is one of the largest website builders currently in use.
Weebly offers you an unpaid plan and three paid subscriptions: Personal ($6/Month), Professional ($12/Month), and Performance
($26/Month), whose pricing and features vary with payment. You can easily inject HTML/CSS/Javascript code into your Weebly projects, giving you limitless integration and customization options. Weebly also offers advanced animation effects for a seamless experience when using your galleries. Weebly also allows you to use custom fonts that let you show off your products and establish a unique brand identity.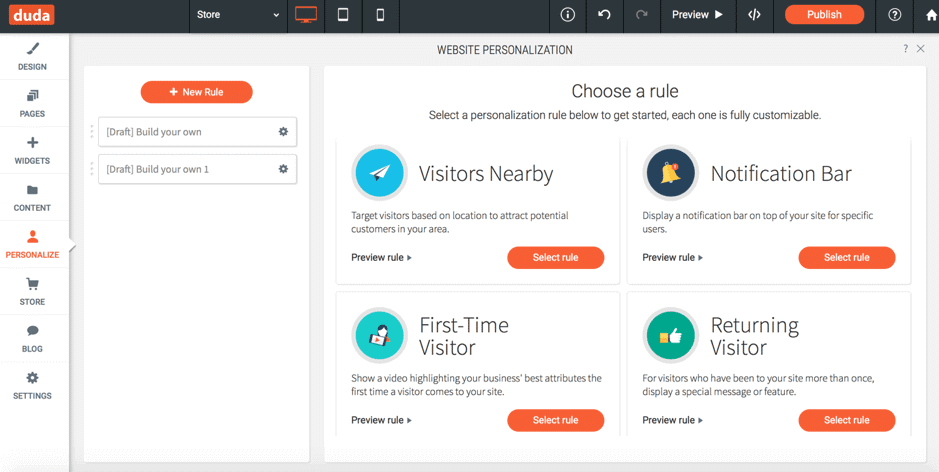 If you want your website to be polished and attractive, then you should try Duda. This tool helps agencies, Software-as-a-Service platforms, and Hosts quickly build professional websites, import content, and deploy sites in minutes. Duda is built for efficiency and speed, and this design-centered web builder offers over 100 templates that make it ideal for those who want stunning websites with little coding effort. There is a wide range of add-ons and widgets you can add to your project to improve functionality. You can even create widgets yourself and insert them into your code.
If you stick to the design guidelines in the Duda knowledge base, your design process will remain simple, painless, and effective. This beginner-friendly builder also uses a drag-and-drop interface, which lets you build your site in minutes, while structured templates serve to guide your design decisions. In addition to the existing pre-filled templates, you can create 10 blank templates from scratch to improve your customization levels. Duda comes with several E-commerce tools that allow you to trade online. These include over 30 payment options, tax calculations, product categories, digital downloads, notifications for clients when stock runs low, and customizable shipping rates.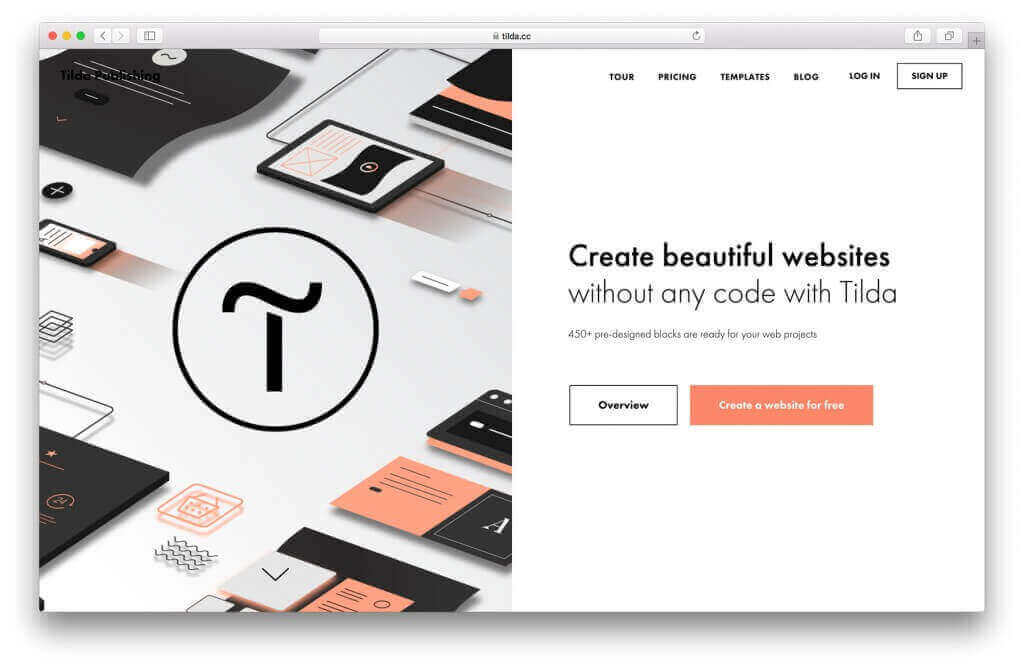 Tilda offers an intuitively formatted interface that lets you create contemporary websites using pre-designed blocks. These blocks make editing and adding content a lot easier since they can be reused by teams when need be. Tilda optimizes pages for all display screen sizes, so your websites will look stunning and the same on all devices. Tilda understands the importance of typography in the readability of your content, so it uses visual blocks to make any content stylish and easy to read. With this 'content first' philosophy, you can easily and effectively connect with your visitors and convert them into customers.
Tilda offers a wide range of animation effects that make the user experience more interactive. You can use specially designed blocks and transitions to create animations that guide your users through the most important content on your web pages. Besides blocks, you'll use Tilda's templates that can be customized to suit your preferred layout style. You could even design your own template if none in the existing library seems perfect for your project. Tilda is Search Engine Friendly, and websites on Tilda are automatically indexed, giving you a higher chance of getting noticed.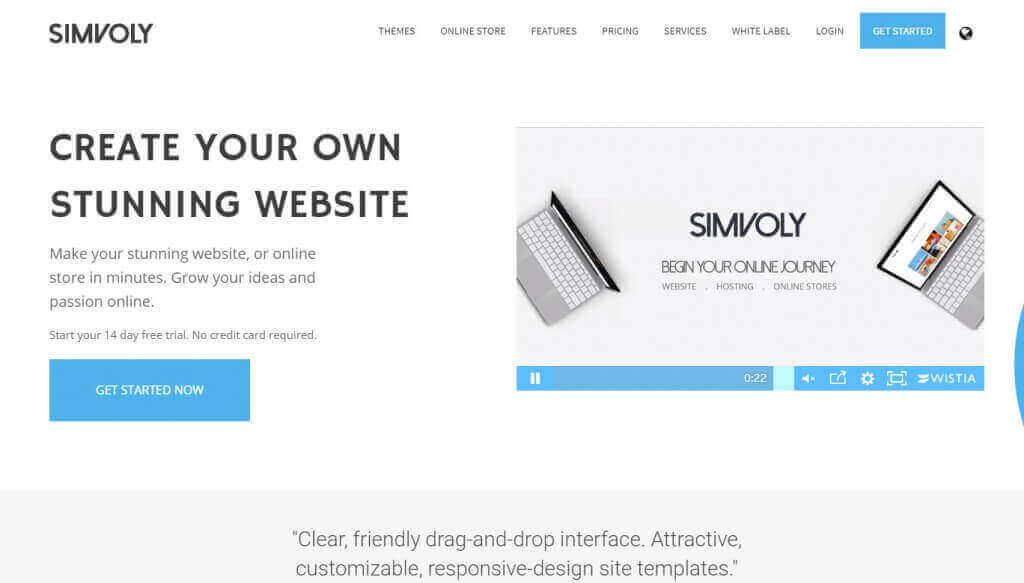 While Simvoly is new to the Website Building discipline, it offers an incredible set of tools and features that make it easy to sell, buy, and connect with clients on the web. Designed for the non-tech-savvy user, the Simvoly drag-and-drop interface makes you create modern, human-centered, and responsive websites at a fraction of the cost you'd incur with other builders. With Simvoly, you get a 14-day free trial, after which you'll have to select a payment plan. The basic plan, the MINI, goes for $5/month and gets you 500 MB storage and 2 GB bandwidth. The Personal plan costs $9/Month and gets you 20 web pages, 10 GB of Bandwidth, and 5 GB of storage. It also gives you free analytics, support, allows for 2 contributors, a domain, and up to 5 products on your eCommerce store. You also have the Business plan for $22/month, and at $32/month, there's no limit to the number of items on your eCommerce store.
Simvoly offers a wide range of customizable templates divided into nine groups, so you can easily start to build your site. There are several themes that you can use, all of which are responsive, allowing you to create stunning mobile web pages. While Simvoly lets you create and manage your image gallery, it lacks even the most basic photo-editing tools, requiring the use of professional editing software even for such mundane actions as rotating or cropping images.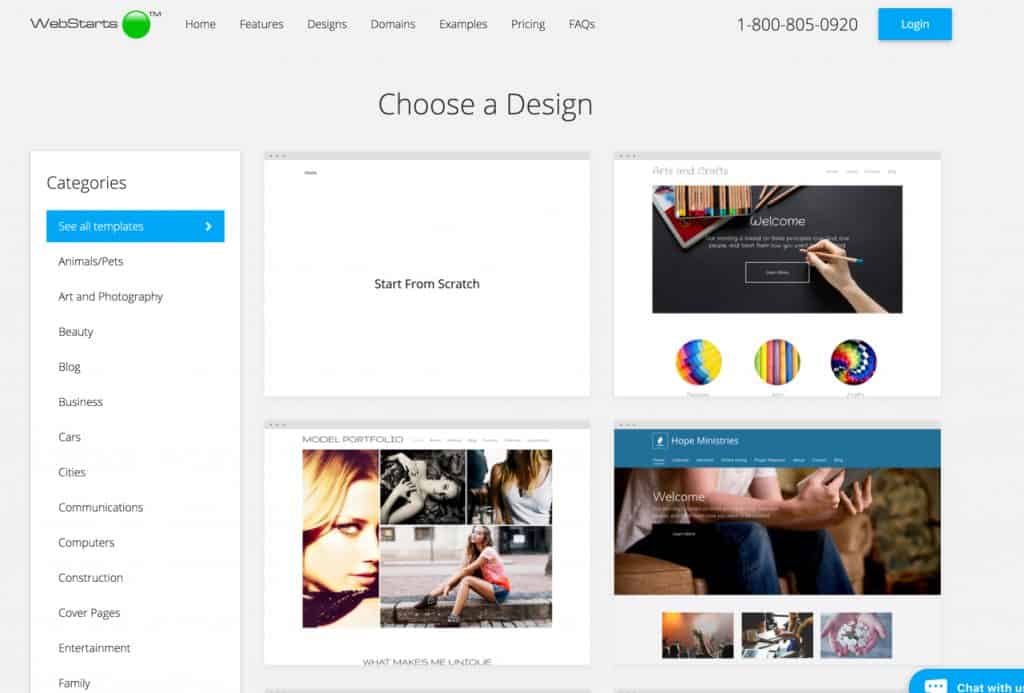 Webstarts lets you bypass the tedious, expensive, and highly specialized process of web coding by letting you easily place text, images, and other web page elements as you'd want them on your page. Webstarts offers web hosting, domain naming, and web design services, which reduces the hassle of hiring a developer, procuring server space, and buying a domain for your site. The Webstarts drag-and-drop editor gives you a What You See is What You Get (WYSIWYG) experience lets us customize templates and themes, creating a truly unique website. Webstarts offers a free beginner version that lets anyone get a feel of the design and development process. The Pro Plan costs $7.16/month, and the Business plan goes for $19.99/month with unlimited bandwidth and large storage.
Premium features help you make the most of Webstarts. Some of the features unavailable to the free version include Mobile optimization, HTML code access, SEO Tools, XML Sitemap Submission, Email Marketing Tools, E-commerce tools, Membership features, and an advertising stipend. You can easily create and update your virtual online store using the easy-to-find store button or Sell Products menu. Webstarts also includes unmatched blogging capabilities that let you connect with your customers seamlessly.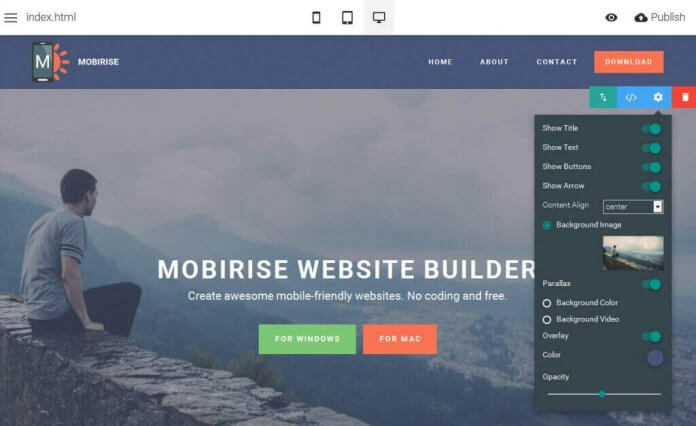 Unlike most of the Website Building Software, Mobirise is an offline solution that lets you create responsive websites from your desktop. This application lets you easily create small and medium websites on your Mac or PC. With Mobirise, absolute beginners can easily create landing pages, portfolios, online resumes, and small eCommerce sites. Mobirise is also perfect for experienced developers who choose to work with as much visual feedback as they can get. The application lets you preview your website on mobile, tablet, and desktop screens before publishing. This free web builder has a giant collection of over 3500 templates, blocks, and themes with tons of flexibility options so you can create highly customized websites.
The Mobirise builder optimizes all your web pages for mobile viewing, which allows you to reach the most number of users on the web. Google test ascertains that all websites made on Mobirise are 100% mobile and SEO friendly, giving your website the utmost visibility on the web. Additionally, you can integrate Google's Accelerated Web Pages to improve your search rankings; you have three options for hosting your site once developed: to a local drive, to a server via FTP, or you can host it on *.mobirisesite.com. This gives you total control over your site's location.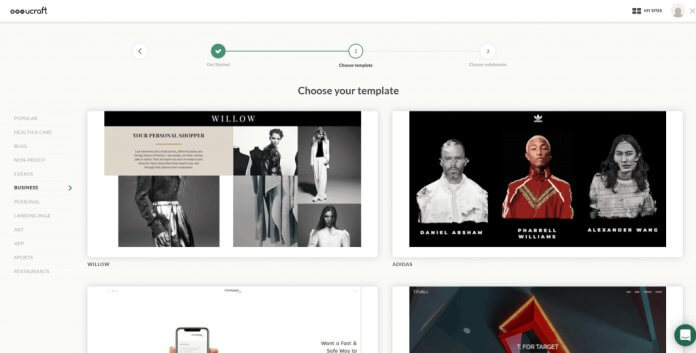 Ucraft offers a myriad of pre-designed templates that let you create a professional, responsive, and visually appealing website. The intuitive website builder uses drag-and-drop functionality and customizable code blocks to ensure your brand is represented in the best light. This multifunctional website builder is perfect for any beginner looking to create an online portfolio, website, or e-commerce store. Ucraft also hosts your websites on Google Cloud, eliminating the fees required for web hosting. This software includes a sleek editor and useful image editing features that will make your products stand out.
UCraft offers 5 pricing plans that cater to users with different design needs. The free plan gives you access to basic features and templates without access to a custom domain. The Pro Website plan goes for $10/month, allows for up to 50 products in your online store, and has multilingual functionality that lets you translate your website into various languages. The Pro Shop version lets you sell up to 1000 products, enable discounts, and edit invoices at $21/month.The BigCommerce plan has no limit on the number of products, and its pricing varies with business needs.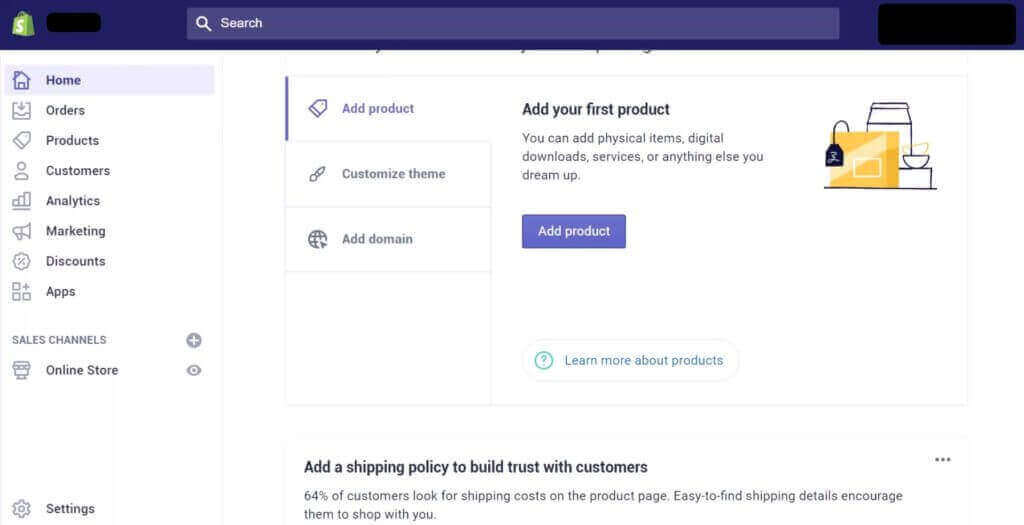 Shopify allows businesses to create powerful eCommerce websites with very little effort, making it the most popular eCommerce website builder on the market. Currently, over 800,000 businesses spread out all over the globe use Shopify for their eCommerce operations. Since it is geared towards eCommerce, Shopify helps business owners in crucial aspects that include customer support, technical resolution, and opening affiliate channels (like Facebook, Amazon, etc.) Shopify is extremely simple to use, and every web design tool can be accessed with a few clicks. This platform offers a limitless number of styling and design options that are stunning and mobile-friendly for the most appealing websites. The templates are also highly flexible, and you have full access to the code for even further customizations.
You can access a myriad of add-ons that help you perform custom integrations for your online store. The powerful yet friendly Shopify interface allows companies to scale their websites and online stores without much of a hassle. Shopify offers three pricing options: the Basic Shopify option, which goes for $26/month, the Shopify offer that goes for $71/month, and the Advanced Shopify option that costs $266/month. You will also pay extra for a domain name, social media selling, and an Enterprise Plus plan for large commercial retail stores.
Types of Website Builder
Online Website Builder: It is a platform you access through your web browser. Instead of downloading the builder's software, it's hosted on the cloud, which you can access anytime on the internet.
Offline Website Builder: It requires downloading and installing software on your computer. In offline, you will create your website and save your files on your computer, and when your website is ready, you can upload all your website files to a web host.
Conclusion
Website Builder Software helps reduce the costs, technical needs, and tedium involved in creating and deploying websites. With advances in computing technology, these tools have improved in sophistication and capability, letting you create visually appealing and responsive websites. These tools also include plenty of third-party integrations that let you connect with clients, sell your products, improve your site's visibility, and analyze business statistics. Selecting the proper website builder software will help you improve business revenue and client engagement, cementing your business in the modern world of eCommerce. These tools can help you get started on your journey of growing your business through an established web presence without having to endure the costs of code development, server provision, and hosting.