What is a Firewall Software?
Firewall software is created to enhance the security of a network. Different network security software provides complete protection for in-transit data, data at rest, and additional network setup elements. It includes network security to maintain "usability, reliability, integrity, and safety" for a network. Network security supports network administrators in tracking and neutralizing unauthorized access or denying network resources through anti-phishing, Trojan horses, spyware, worms, and other vendor-specific vulnerabilities.
Firewall software consists of real-time tools to monitor a network to prevent unapproved access, data leaks, or other threats. These tools may focus on endpoint security, where network data is displayed on devices, or internal security, where various risks happen within the network.
Features of a Firewall Software
List of Firewall Software
When you start looking for the best firewall software, it is easy to get overwhelmed with the list of options available. Here is the handpicked list of firewall software to choose as per your requirement: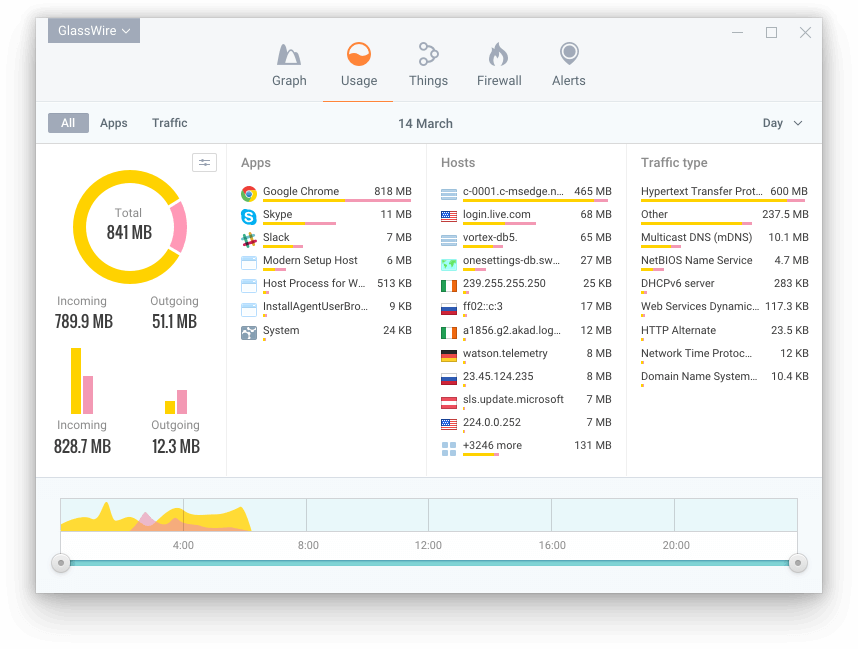 GlassWire is a firewall software suitable for businesses of all sizes. It includes an in-built firewall, remote server monitoring, bandwidth usage monitoring, network monitoring, etc. Allows users to track past and current network activity by application, traffic type, and block threats. GlassWire firewall software enables users to monitor network usage by a specific day, time, week and month.
GlassWire firewall software allows users to monitor sharing data by apps, bandwidth, WiFi connection, application changes, DNS changes and ARP spoofing. It also enables users to detect threats and network changes.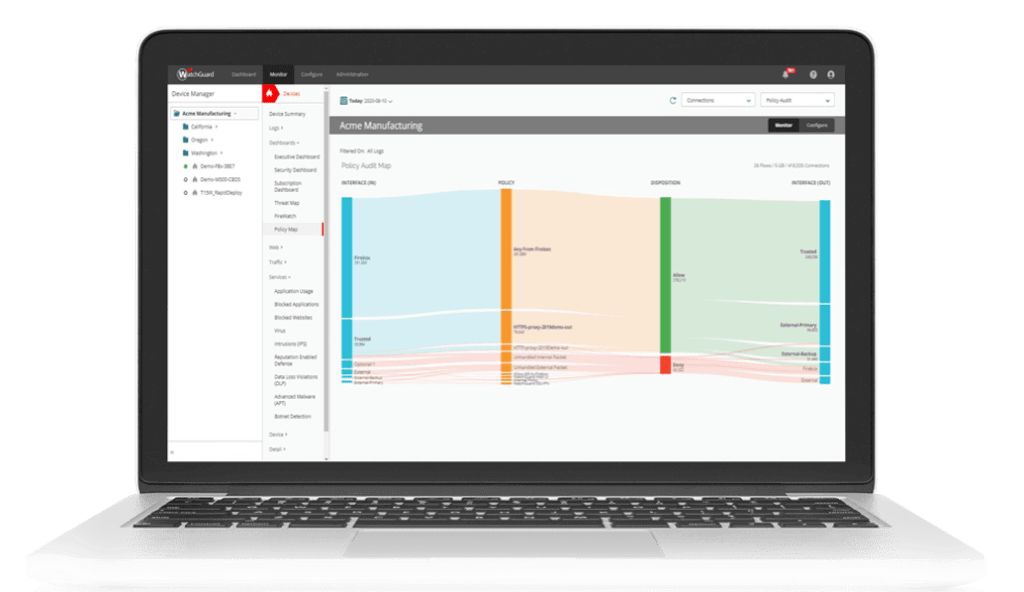 WatchGuard is a firewall software that allows users to protect systems from malware, phishing attempts, and ransomware and improve network visibility. It includes network discovery, threat detection and response, application control, etc. Allows an admin to create rules for a Virtual Private Network (VPNs), network inspections, and content filtering. WatchGuard firewall software also provides network configuration for various networks and clients.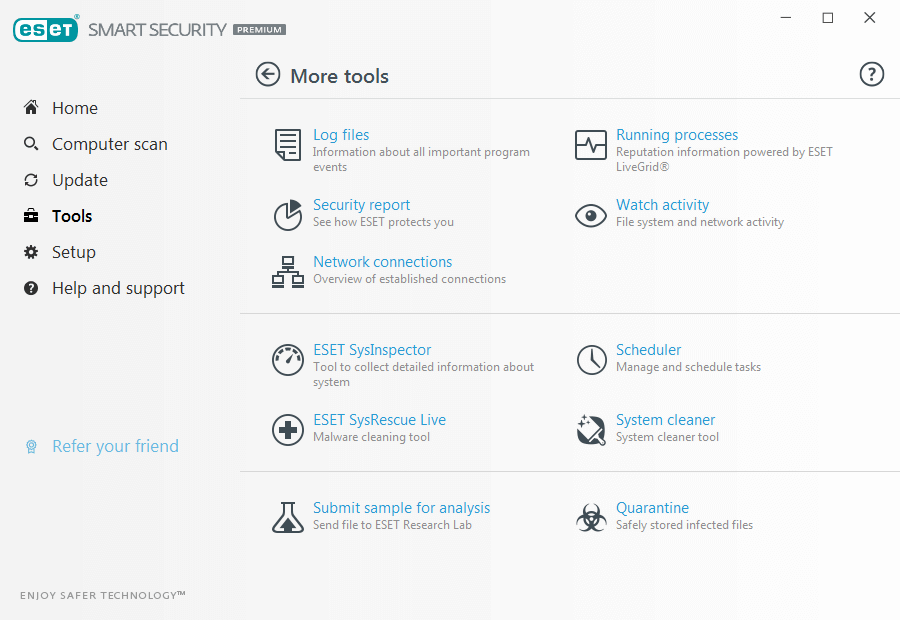 ESET is a firewall software that is the ultimate internet safety solution, connecting multiple security layers, including advanced features such as malware detection, file security, endpoint security, virus protection, online banking protection, password manager and file encryption. Protects against data theft in case of a USB key or laptop loss and allows secure collaboration and data sharing.
ESET firewall software allows users to protect essential information such as username and passwords from spyware, rootkits, and viruses by monitoring malicious activities. Enables users to assess the system before installing the program to ensure operational safety.
Enables users to remove malware and spam from email servers. Also enables users to gain into threat sources to create reports. It provides a mobile app for iOS and Android. Available on-premise and cloud-based.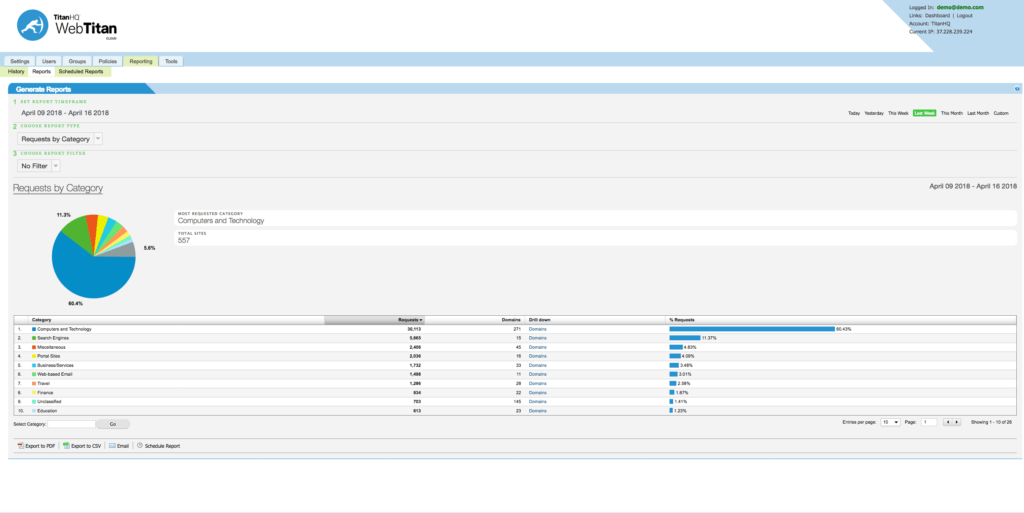 WebTitan is a firewall software that allows users to monitor ransomware, viruses, malware, etc. It includes website allowlists and blocklists, reporting, content filtering, etc. Allows users to detect and block malicious threats automatically in real-time. WebTitan firewall software provides a DNS and web filtering functionality.
WebTitan firewall software allows users to detect malicious URLs, including HTTP and HTTPS. Enables users to create a report with customizable filters. It also allows users to integrate with Lightweight Directory Access Protocol (LDAP) to create reports on specific individuals or groups.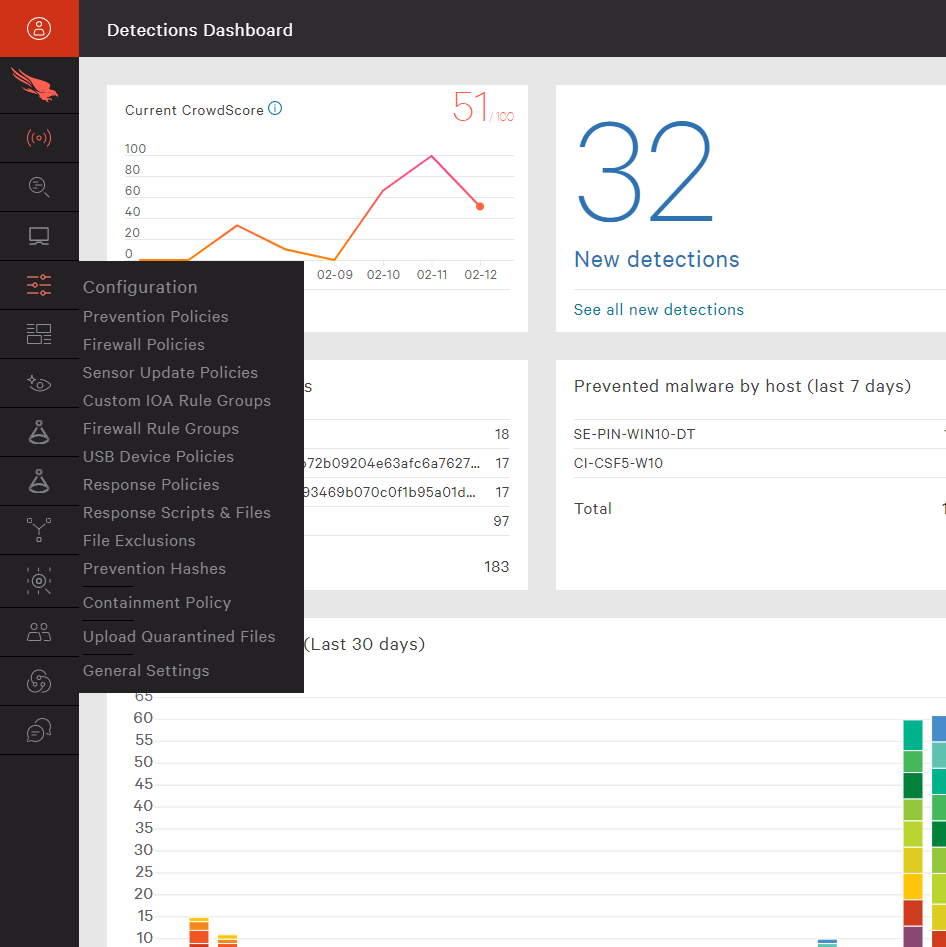 Falcon is a firewall software that is designed for businesses of all sizes. It includes threat event detection, data security, malware detection, AI-based testing, etc. Allows users to create, manage and change firewall policies. Enables users to track malicious activities and prevent data tampering across various devices. Falcon firewall software lets users view and block hackers, preventing unapproved access in real-time.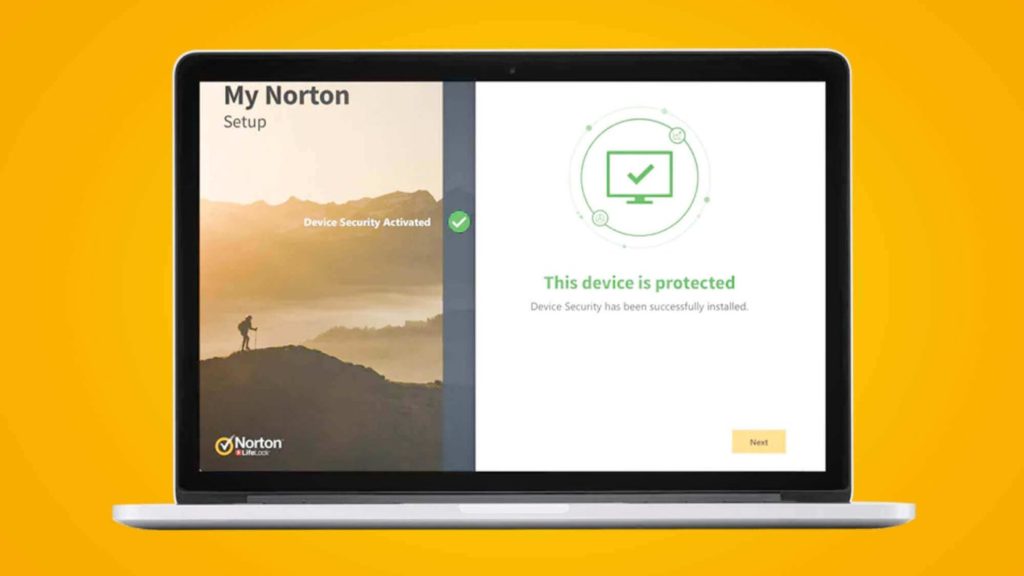 Norton firewall software is a cross-platform security suite that provides subscription-based real-time malware protection, identity theft protection, and performance tuning tools. Additional features include spam filtering and anti-phishing protection.
Norton firewall provides safe kids parental controls functionality that allows users to track download history and online activities to ensure a secure browsing environment. It provides a mobile app for iOS and Android. Available on-premise and on desktop (Mac and Windows).
It enables users to scan and block multiple malicious websites from collecting personal information, such as contact number, date of birth, and address. Allows users to protect multiple devices.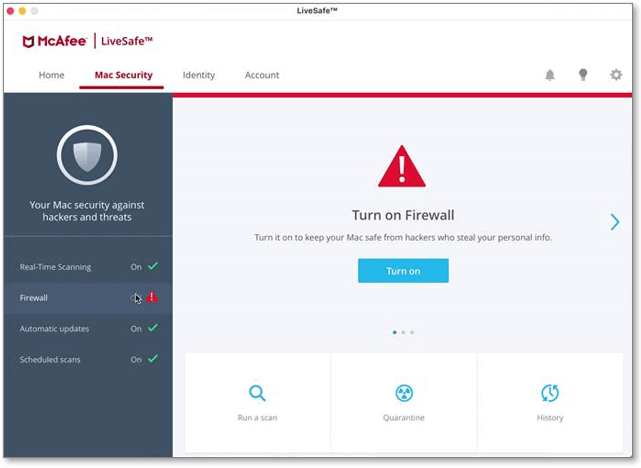 McAfee firewall software provides Windows, Mac, mobile virus protection promise, spam filtering capabilities, encrypt sensitive files, dark web protection, and more. Connect five or ten devices and protect what matters most from hackers and cybercriminals.
McAfee firewall software allows users to identify and blocks vulnerabilities across data centres. Enables users to monitor malicious network traffic and prevent attacks. Provides a mobile app for ios and Android.
It allows an admin to gain visibility into devices and analyze vulnerabilities assessments and endpoint protection. Enables users to integrate with VMware NSX and OpenStack.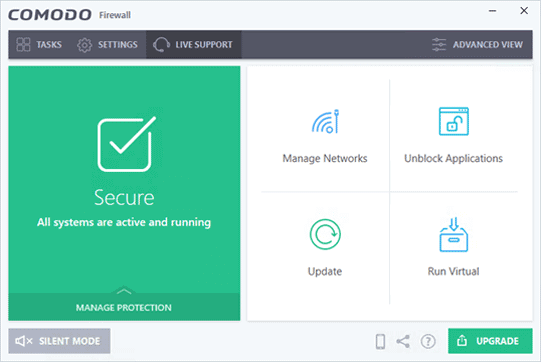 Comodo firewall software can block most cyberattacks and malware that steal private data stored on a computer. It also provides free multi-layered protection against malicious threats that appear in the form of a suite, integrates Defense+, automated sandboxing of suspicious data, and firewalls to achieve full-fledged security against online threats and blocking of malicious attacks.
Comodo firewall software provides a Host Intrusion Prevention System' (HIPS) that allows users to monitor and blocks malicious network intrusions. It provides a mobile app for iOS and Android. Available on-premise and cloud-based. Also provides a desktop app for Mac and Windows.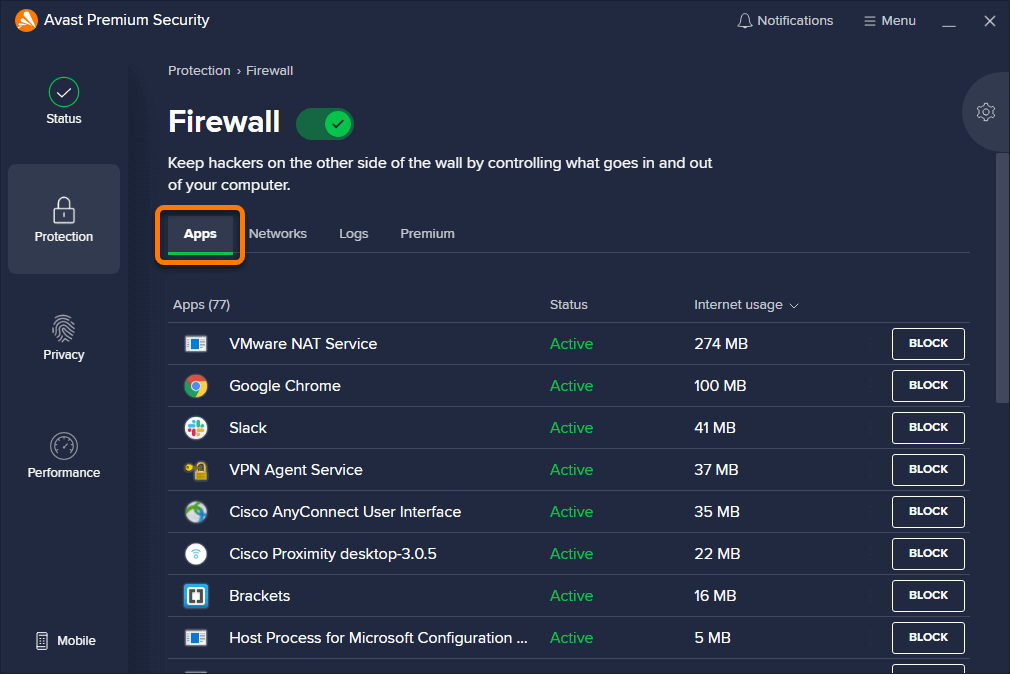 Avast firewall software provides 100% protection against zero-day threats. Avast develops and debugs its cloud-based scanning system for unknown content, including our intelligent antivirus protection that detects viruses, malware, ransomware, and phishing. Avast internet security software also includes free security features such as Software Updater, Ransomware Shield, and Passwords.
Avast firewall software allows users to protect systems from malicious web pages, URLs, files and emails. It also enables users to create performance reports in real-time.
Avast enables users to block unapproved access and secure financial transactions or online banking. Provides an app for desktops (Mac and Windows).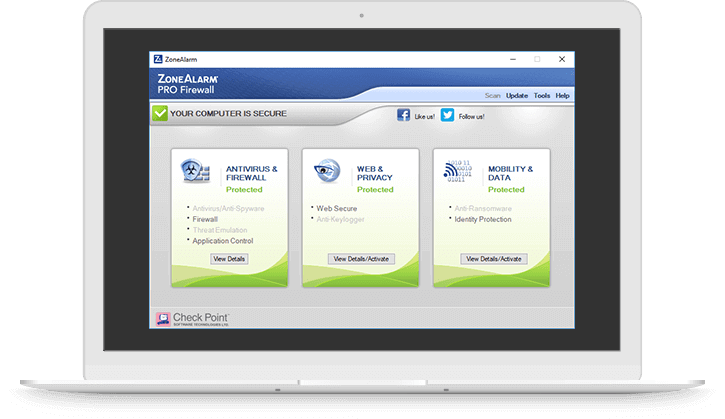 ZoneAlarm firewall software allows users to detect Trojan horses, malware and spyware while the active firewall protects the user's system from the network. Flexible firewall configuration allows you to configure mandatory access to the internet for each application or automate permissions. A unique component for user privacy, real-time protection monitors your data and prevents unapproved access.
ZoneAlarm firewall software protects against phishing and rootkits. Allows users to block identity theft by securing browsing or personal data. It enables users to implement custom anti-virus scans and ensure complete protection. Available on-premise and cloud-based.
Conclusion
As the world becomes increasingly digitized, we rely more and more on networks and the internet. These, in turn, require the system and internet to provide a safe and reliable service. However, hackers focus on networked systems because our personal and sensitive data is stored in electronic repositories and archives. For this reason, a person or organization must use the best and most reliable firewall suites from firewall software options.