What is an Email Management Software?
Email Management Software enables users to sort, organize, and reply to vast volumes of inbound customer emails. It can be utilized for any situation that involves incoming bulk emails, such as campaign feedback or the internal service desk of multinational companies. Can generate excellent results for an organization if utilized appropriately. Email Management Software saves time, enhances productivity, allows a collaborative approach, reduces error chances, increases customer experience, and improves overall business.
Email management software is designed to communicate important information and conduct business between clients, prospective buyers, and co-workers. It includes address books, app-based integration tools, mailing lists, file sharing, folders, etc. It also consists of a ticketing system that assigns reference numbers to email queries and helps agents track and respond to email requests more quickly.
Features of Email Management Software
List of Email Management Software
When you start looking for the best email management software, it is easy to get overwhelmed with the list of options available. Here is the handpicked list of email management software to choose as per your requirement: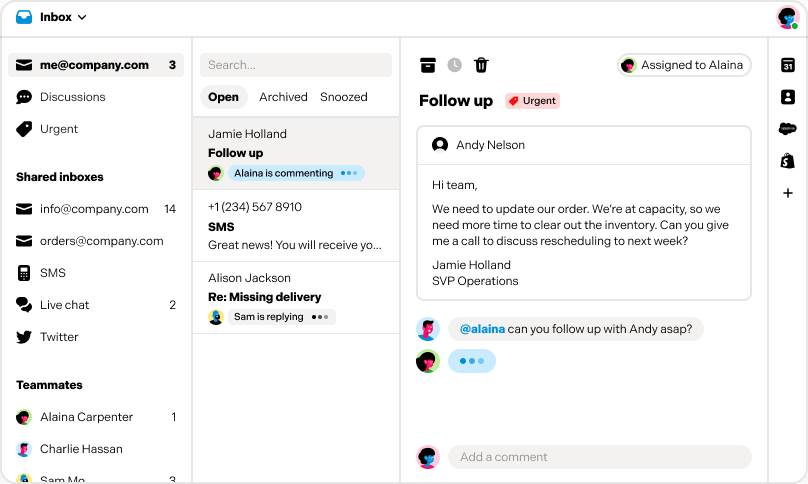 Front App is a cloud-based email management software that enables you to work smoothly. Allows you to respond faster, and you never miss any emails. Enables in prioritizing, managing, and replying to emails with greater efficiency. Task allocation and routing of emails also increase productivity. You can set automatic SLA notifications to avoid any breaches. Front App email management software also helps you generate customized reports using the software's analytics, which can help in trending & forecasting.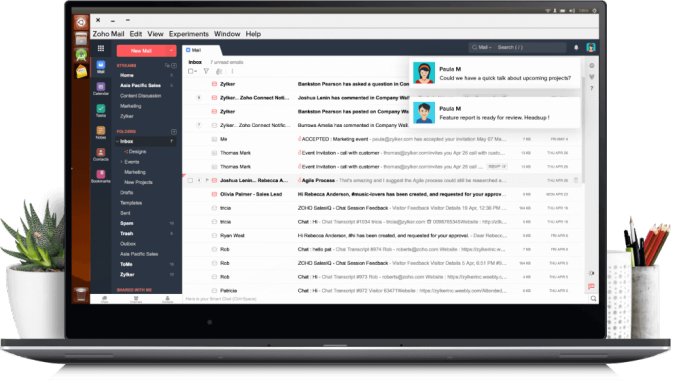 Zoho Mail provides a fast and clean interface. A unique and secure hosting tool to host your emails safely and is also entirely encrypted. Businesses can experience better productivity with the Zoho Mail suite, which includes Zoho Docs. Zoho Mail, an email management software, enables you to create, collaborate easily, and edit presentations and spreadsheets within a team. You can also get an email id with the domain of your choice.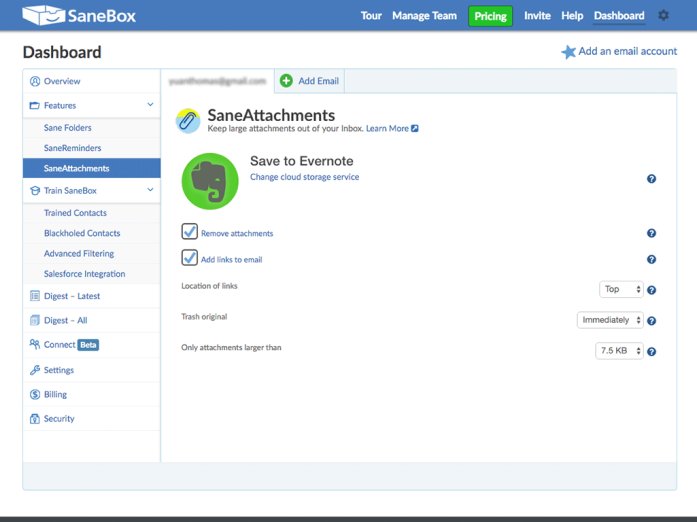 SaneBox is an intelligently designed and AI-powered tool that can help you to declutter your inbox effortlessly. Identifies and sorts emails that are important to you and hides those that are not so important by creating a folder on your email account called SaneLater. If an email has been sent in the wrong folder, you can drag it to the right one, and Sanebox will remember this for the next time, so future emails from this sender will be placed in the correct folder. SaneBox email management software also enables you to unsubscribes any unwanted mail notifications.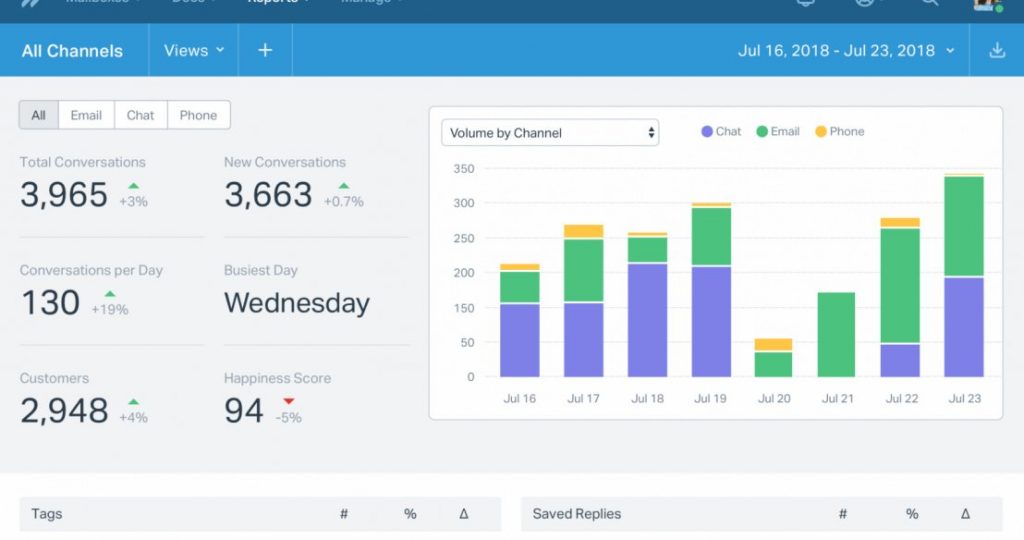 Help Scout is a cloud-based solution that helps small businesses to manage their customer relationships. It is a collaborative workforce-driven software that allows higher productivity and enhanced output. Enables you to respond to emails using a personalized touch rather than ticket numbers. Help Scout email management software lets you create multiple mailboxes for each shared email address to work across departments or functions from a single account interface. The reporting feature helps users measure team performance and monitor customer satisfaction.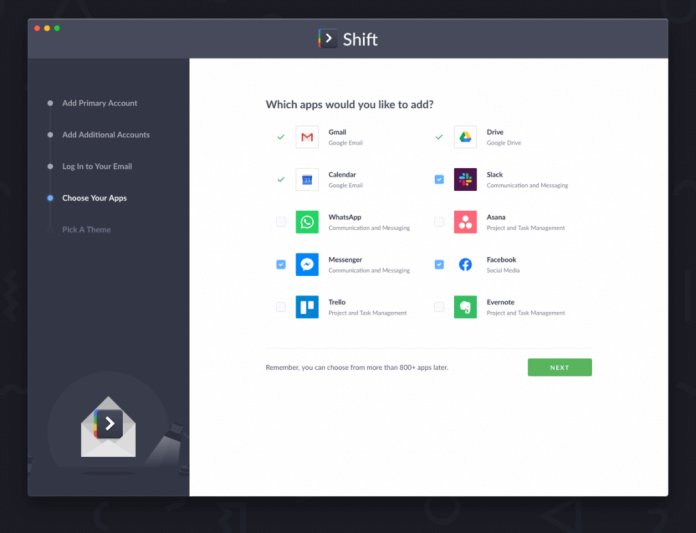 Shift is a centralized platform with one-way access for all your email accounts, browsers, and apps. Allows you to create a customized workstation as per your choice, including all your apps and email accounts; this will prevent the waste of any unproductive time. You can get relieved from the hassle of looking up multiple browsing sites; lock all your favorite websites or apps on Shift for quick accessibility. Shift email management software also allows you to quickly shift between Gmail or Inbox, Calendar, even between Google or Outlook Mailbox accounts.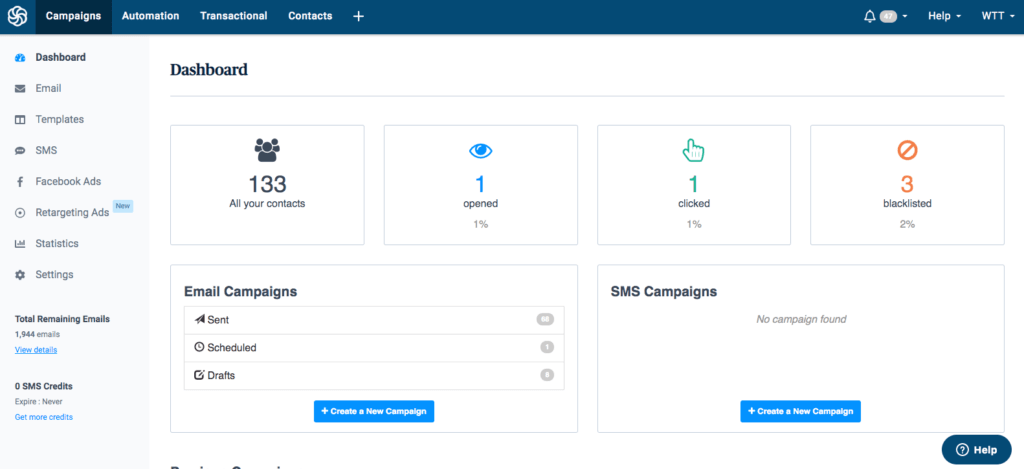 SendinBlue is a cloud-based email management software for organizations of all sizes. It offers marketing automation, email campaigns, transactional emails, and SMS message functionalities within a suite. SendinBlue, an email management software, allows users to create mobile-responsive emails using design tools. Users can also schedule an automated marketing campaign and pre-test messages' deliverability before sending campaigns. Allows users to know when recipients have opened their emails and proactively adjust the content to increase engagement.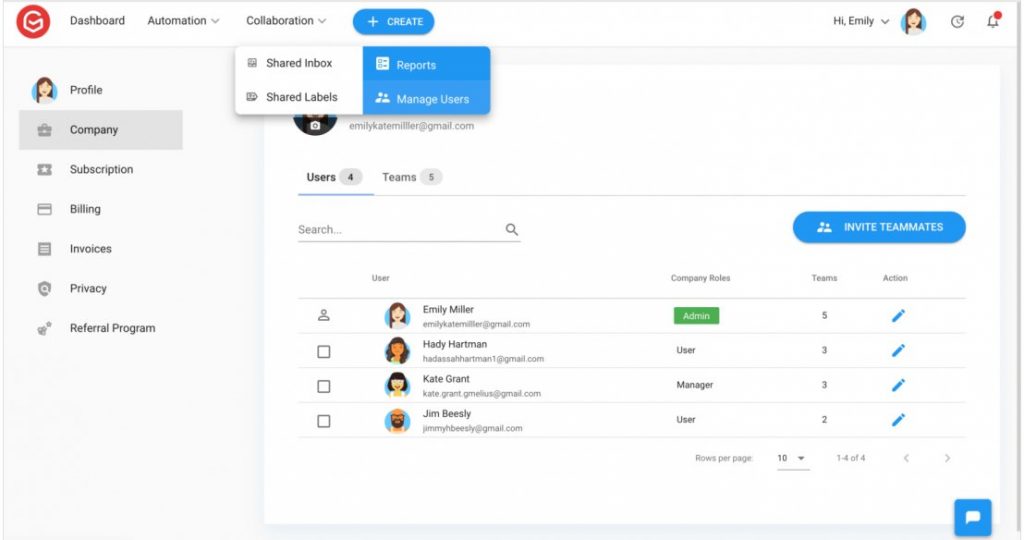 Gmelius is a cloud-based email management software that brings teams together within the Gmail platform. Allows teams to manage projects and clients without leaving their inboxes. It is designed for groups who want to collaborate on client and project management directly from Gmail. Gmelius, an email management software, can be used by companies of all sizes across various industries, including IT companies, operations teams, sales and marketing teams, etc. Users can also create automated email sequences that trigger pre-defined instructions, meaning the system can automatically schedule smart follow-ups and analyze recipients' activities in detail.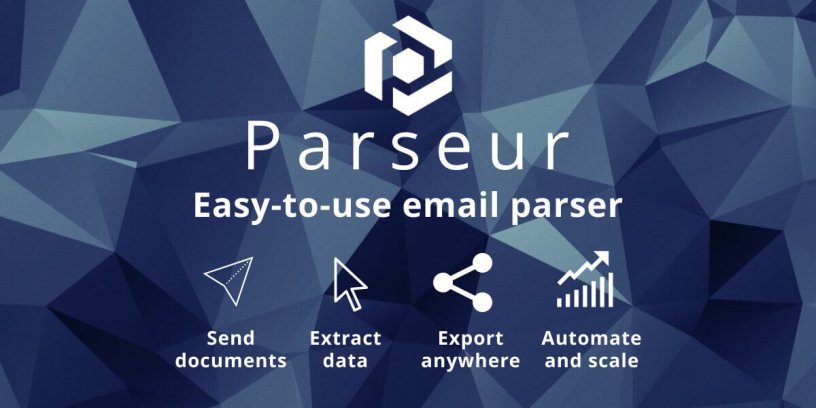 Parseur is a cloud-based email parser tool that helps businesses of all sizes to extract text from emails. Automates the entire data entry workflow, extracts text from email and documents, and virtually sends it to any application or database. Highlights the text to be captured by creating a new template from the sample document. Parseur email management software also provides a built-in library to automatically parse emails from real estate services, Google Alerts, food delivery, ride-sharing, etc.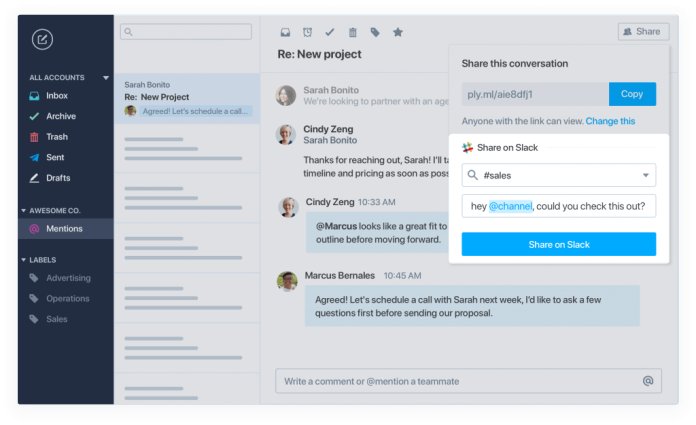 Polymail is an email management software for teams. Provides real-time collaboration and integration with your teams and allows everyone to work together seamlessly and productively. It is designed for sales teams, client teams, and individuals at growing businesses. Polymail, an email management software, includes email tracking, follow-up reminders, message templates, calendar integration, contact enrichment, etc.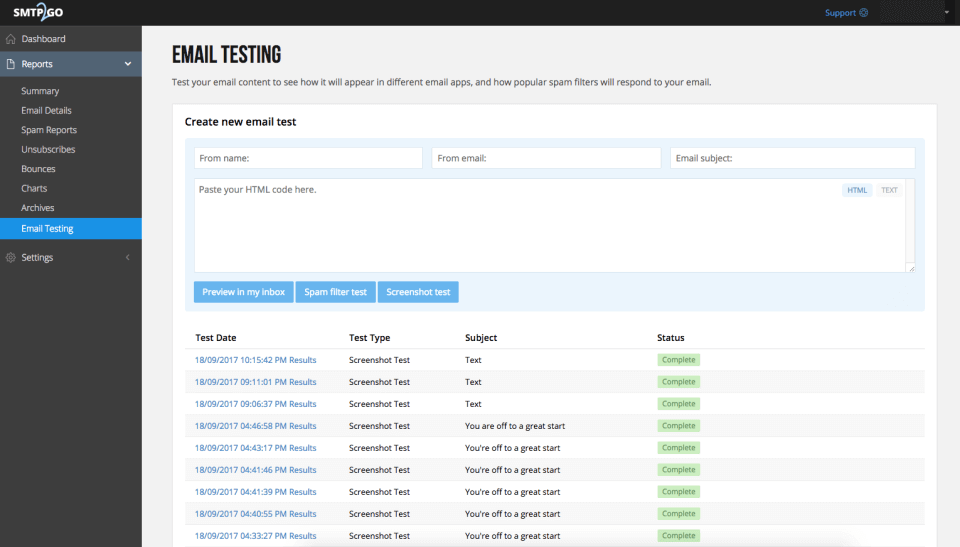 SMTP2GO is a cloud-based email management software that helps to deliver and track emails. It includes ticket support, live chat, setup assistance, feedback loops, blacklist monitoring, spam trap detection, real-time analytics, weekly summaries, and bounce/spam tracking. SMTP2GO email management software provides visual reports, which help users to understand real-time responses to emails.
SMTP2GO allows users' emails to stay away from blacklists and spam folders and notifies them whenever it detects any problem in an account, such as an increased bounce rate. Users can also see how their emails will appear in more than 40 email clients or software, including Apple Mail, Outlook, and Yahoo Mail.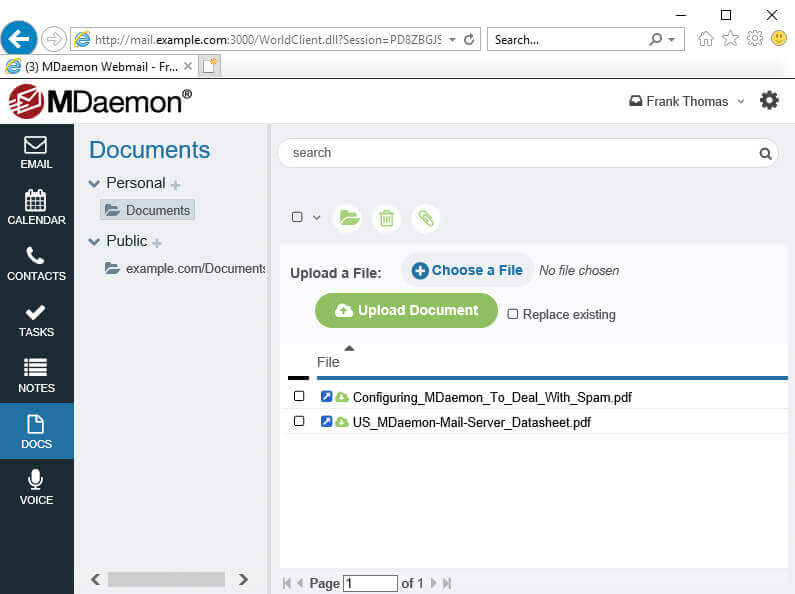 MDaemon, an email management software, is one of the most widely used mail servers globally, trusted by customers in over 90 countries to meet their small to medium-sized businesses' needs. A reliable and secure mail server that does not require expensive administration or imposes high per-user costs. MDaemon, email management software, simplifies messaging and collaboration requirements with an intuitive, user-friendly interface and can be managed with minimal training and support. Provides email security and offers proactive protection against email-borne threats of spam, viruses, and phishing. It provides a 30-day trial period.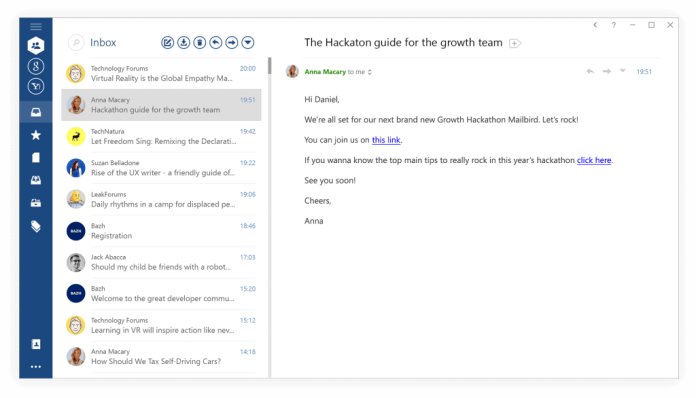 Mailbird is an email management software that helps businesses to manage multiple accounts. Windows-based software enables users to sync and centralize emails and contacts from several platforms in a single inbox. It includes response management, email archiving, attachment search, and keyboard shortcuts. Mailbird, an email management software, allows users to link, merge, drag, and drop contacts and unify them in one inbox. Allows users to access unlimited email accounts, offline mode, undo sent messages, and attachment preview.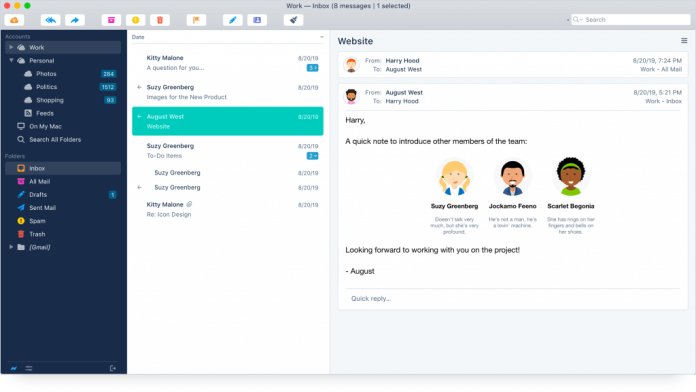 Postbox is a fully-featured email management software that helps you to work faster and save time. It provides a powerful email solution for independent consultants, small and medium-sized businesses, large enterprises, and educational institutions. Allows you to manage your email accounts in one place. Postbox email management software enables you to handle multiple email accounts and allows you to subscribe to RSS feeds to access the latest news. Allows you to browse the email attachments and images related to a folder's messages.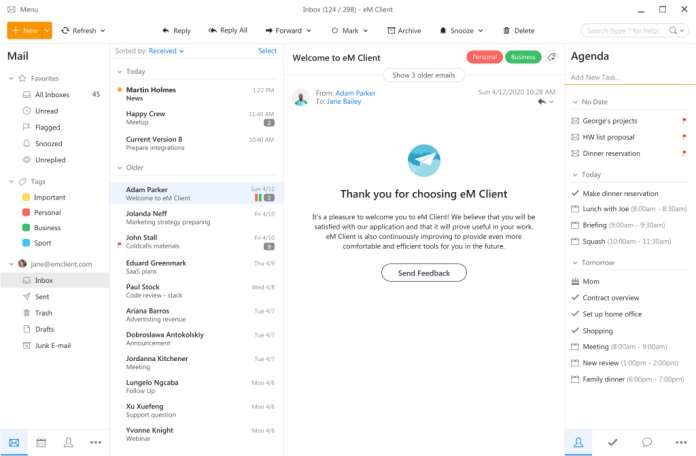 eM Client is a fully-featured email management software with a clean and easy-to-use interface. Provides a calendar, tasks, contacts, and chat. eM Client, an email management software, supports all primary services, including Gmail, Exchange, iCloud, and Outlook.com. Enables users to easily import their data from most email clients and manage multiple email accounts.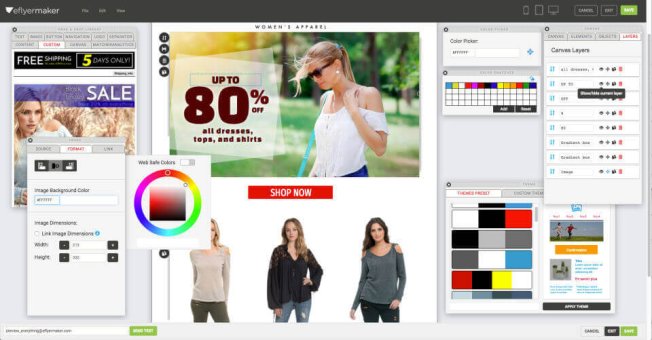 eFlyerMaker is a cloud-based email management software that enables businesses to interact with customers, manage marketing campaigns, configure approval processes, and maintain compliance with various security regulations. Allows users to create and launch outstanding email marketing campaigns within minutes. eFlyerMaker email management software enables enterprises to visualize each campaign's heatmap and use the UTF-8 functionality to translate email messages into multiple languages.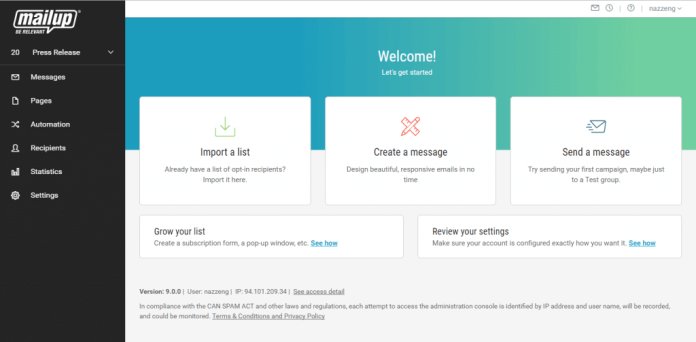 MailUp is a straightforward email management software to create, automate, and customize Email, SMS and offers advanced automation features and the best technology for your marketing strategies. A complete solution for multichannel marketing needs: newsletters, transactional emails, promotions, social media, etc. MailUp, email management software, includes drag & drop email builder, integrates your marketing stack, creates automated multichannel workflows, and monitors your campaign performances through in-depth reports.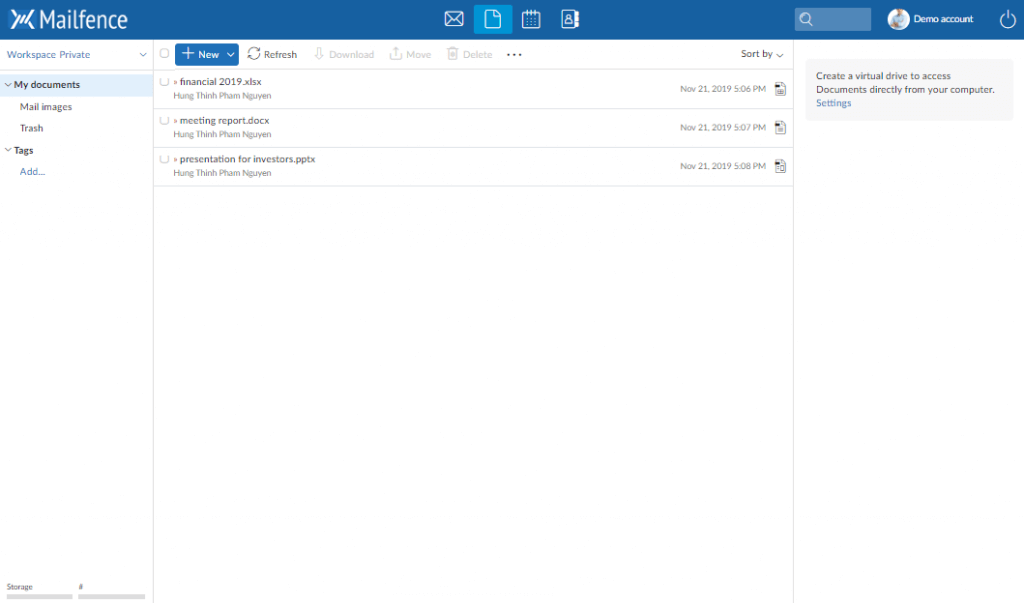 Mailfence is a secure email management software designed for all sizes of businesses to maintain their privacy. Protects its users through an end-to-end encrypted email with digital signing and offers a complete email suite, calendar, documents, etc. Mailfence, email management software, provides password encrypted messages; a password agreed between the sender, and the recipient encrypts the message. Two-factor authentication (2FA) and Transport Layer Security (TLS) encryption offer a secure connection for mail delivery to servers.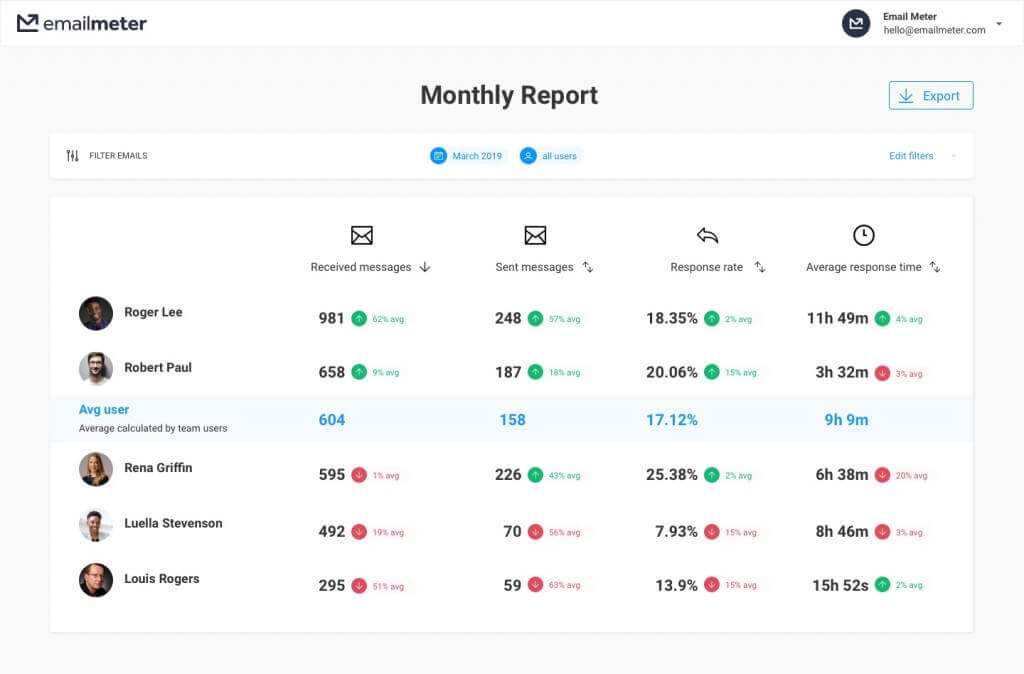 Email Meter is a cloud-based email management software built for G Suite that helps businesses track employee productivity, workload, and response time. It is essentially designed to measure email productivity across individual accounts and teams. Email Meter, an email management software, provides users with centralized email statistics, including outgoing emails and average response rates across teams. With the domain email monitoring feature, users can track employee emails through the header and metadata analysis. Allows businesses to collect and export reports in CSV file format.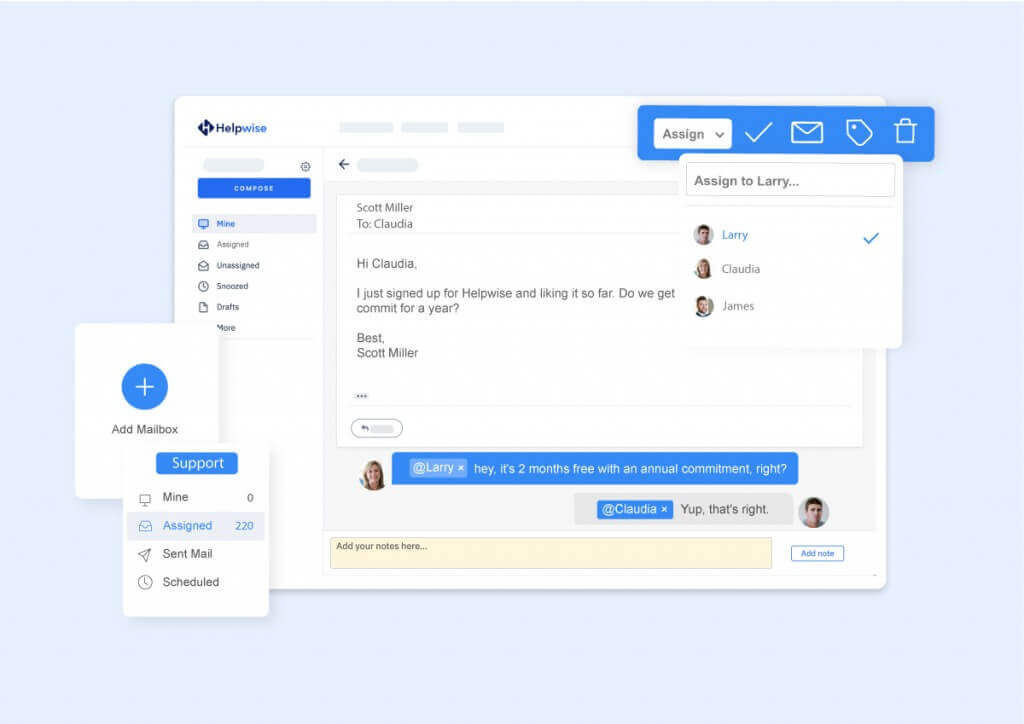 Helpwise is a shared inbox for Email, WhatsApp, and SMS. Enables a team to easily collaborate & manage multi-channel customer conversations from a single platform. It ensures zero confusion between team members and speeds up your customer service and email delivery with communication and collaboration. Helpwise email management software provides you with detailed analytics on your email frequency, response rates & individual performance.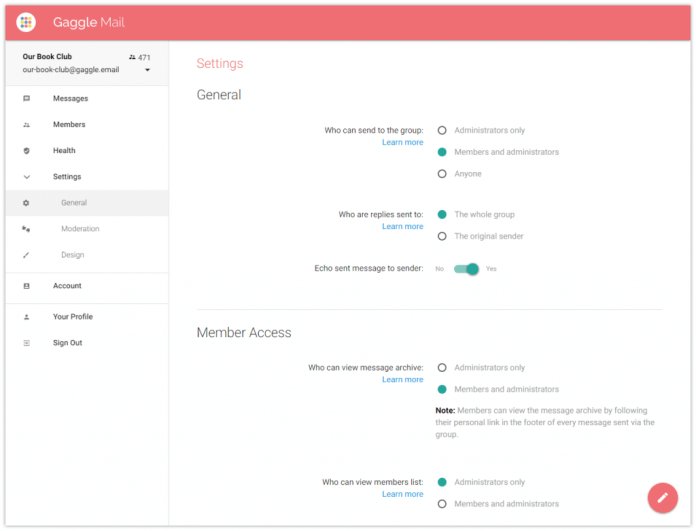 Gaggle Mail is a straightforward email management software that helps you set up and maintain an email group. Provides you a permanent @gaggle.email address that everyone in your group can use. Gaggle Mail, an email management software, offers training via documentation and also provides online support. Enables users to create a simple web form that anyone can use to join their group and enables users to prepare their welcome message for anyone who wants to join their group.
SendX is an intuitive and affordable email management software for marketers & business owners. Enables users to send unlimited email campaigns, build email lists, design emails using a drag-and-drop editor, email automation, and sequences. It provides responsive email templates and half a million stock-free images for your email campaigns. SendX email management software provides a unique feature of the Email Drip Sequence with which emails can be sent after regular time intervals and helps to remain in continuous contact with the customers.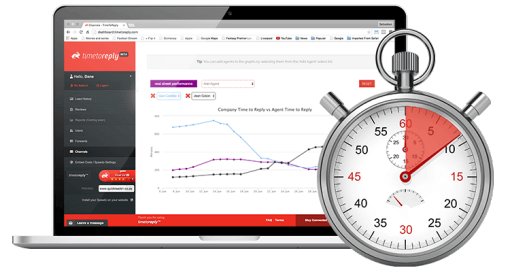 Timetoreply is a cloud-based email management software that enables companies to visualize, manage, track email volumes, and set reply times. It provides you with actionable information and metrics about your sales and support team and business-related email activities. Timetoreply email management software allows users to monitor incoming and outgoing emails across all individual or group email accounts. Enables you to add or remove specific access from the system, send invitation links to multiple agents, manage client API access, and help organizations filter reports by date range, email subject, and customer name.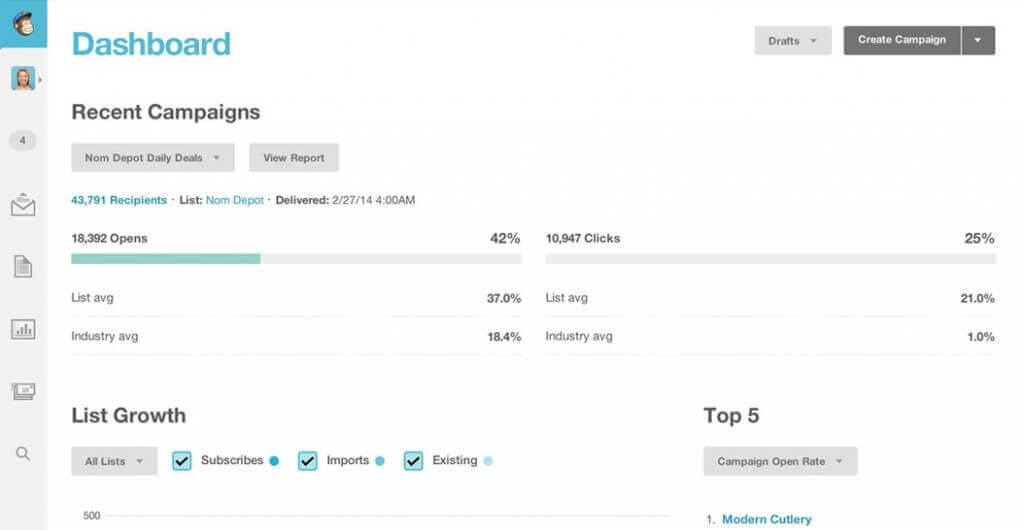 MailChimp is a web-based email management software for all businesses that allow users to share newsletters on multiple social networks and track customer engagements. Allows you to create targeted emails, run Facebook ad campaigns, automate follow-ups, and monitor campaign progress. MailChimp, an email management software, offers graphical representations of data and customer interactions in various formats. Users can also categorize their mailing lists to engage different audiences. The RSS-to-email option automatically sends out your newsletter when you update your blog.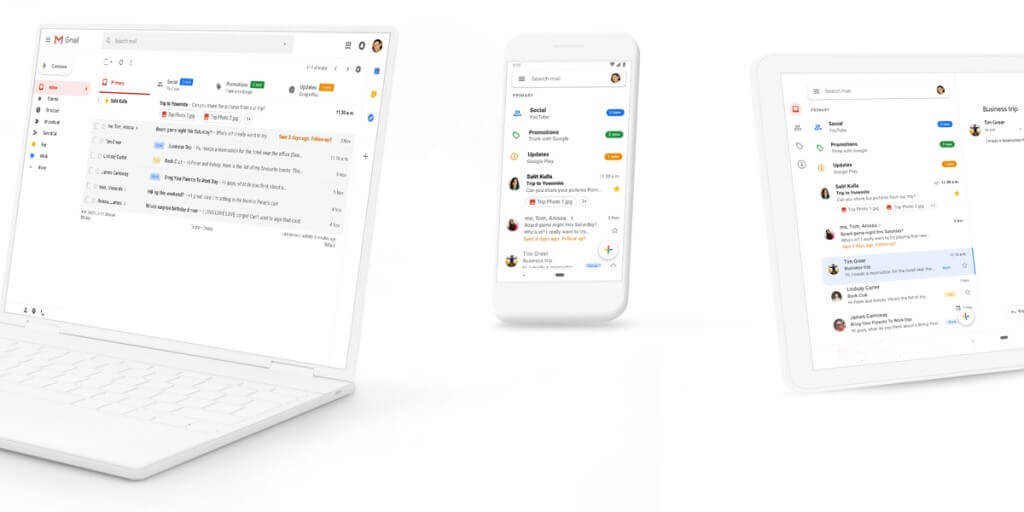 Gmail is a free email management software that enables you to send and receive an email. Users can send an email to multiple users at a time. Allows users to use the third-party program to access Gmail. Such programs synchronize the email content through IMAP protocols (Internet Message Access Protocol) or POP (Post Office Protocol). Gmail, an email management software, allows you to start a video meeting and enables you to start chatting. You can quickly organize and find an important email to mark them as a favourite. Provides a spam filtering feature that automatically recognizes and tags spam messages and stores them in a spam folder.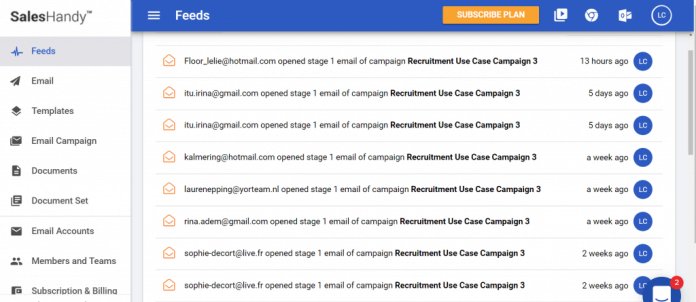 SalesHandy is a web-based sales communications and data analytics platform designed to share files, monitor emails, unify document management, and initiate leads via centralization for small, medium, and large businesses. SalesHandy email management software also allows users to track unlimited emails for free, schedule emails, attach and send smart templates, automate follow-up emails, and get behavioral insights from email communications to identify the most engaged recipients faster.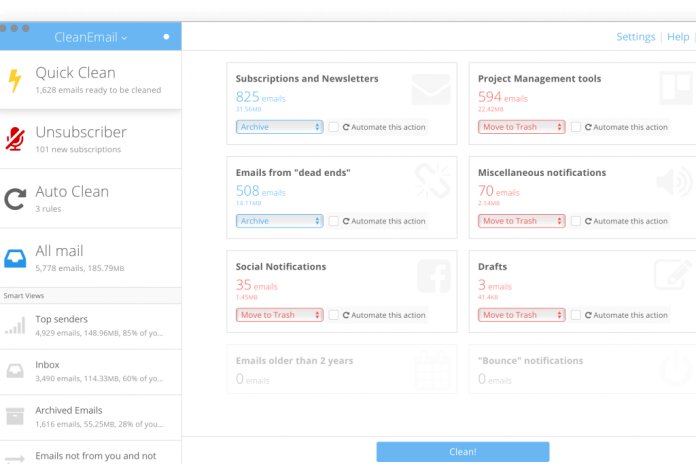 CleanEmail is an online bulk email cleaner. Enables you to manage your mailbox, group and organize, remove a label, and archive emails. Instead of focusing on individual emails, it will organize your mailbox into smart views using filters to simplify email management. CleanEmail, an email management software, uses an advanced auto-clean method to distinguish automated emails and spam intelligently. Users can also specify which emails they consider to be the most relevant to help CleanEmail automatically categorize them for you.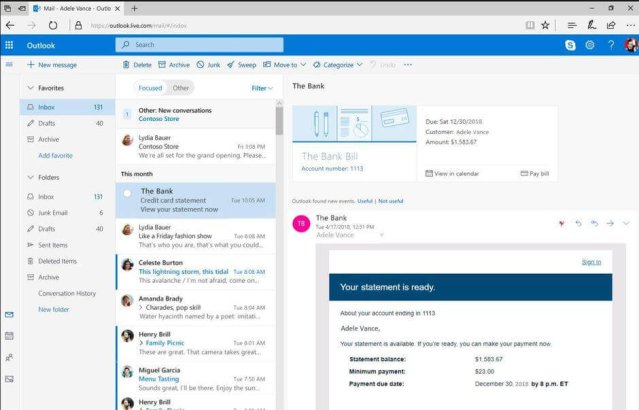 Microsoft Outlook is an email management software suitable for businesses of all sizes. With a robust built-in calendar that helps users organize multi-faceted workflow. It's the best email management software as it seamlessly integrates with the entire system. Enables users to share files, create templates, etc., efficiently. Microsoft Outlook email management software allows users to remain focused in the inbox where essential emails from one or more accounts are stored. Provides tools that allow users to attach files from cloud storage services like Google Drive and Dropbox.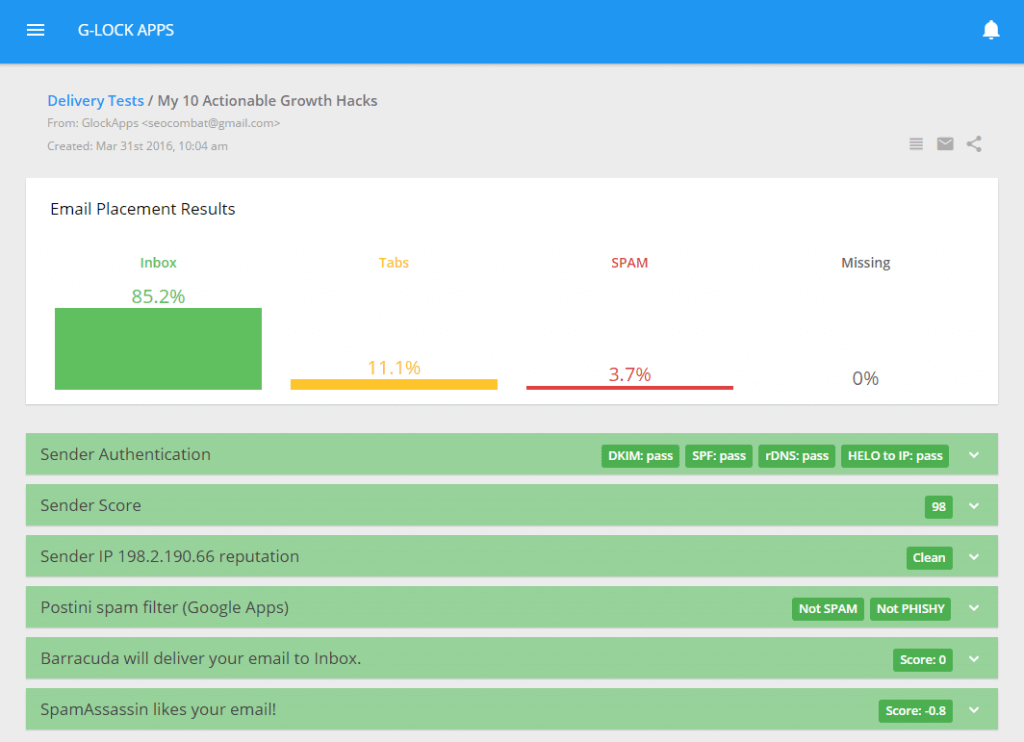 G-Lock Apps is an email management software that manages inbox delivery and spam filter testing service to help users determine and fix possible deliverability problems before sending the subscribers' message. Users get the report of how email is placed across major ISPs, and what ISP blocked the message. G-Lock Apps, an email management software, is designed for businesses of all sizes and helps you identify malware, detect phishing, prevent spam, etc.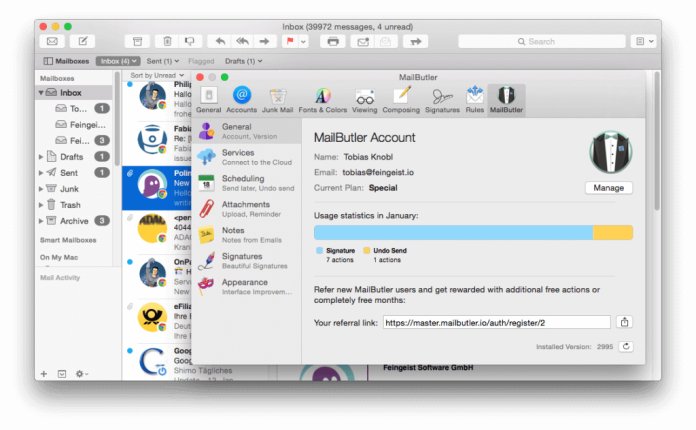 Mailbutler is an email management software that simplifies daily email routine for everyone, empower collaboration and knowledge sharing, and help professionals and teams manage emails flexibly and stress-free. Ideal for personal and business emails. Users can keep track and leverage their outbound communication and confidently reach contacts every time an email is sent. Mailbutler email management software also brings teams together with its powerful Team features such as sharing email signatures, templates, delegating tasks, and collaborating on notes without leaving the inbox.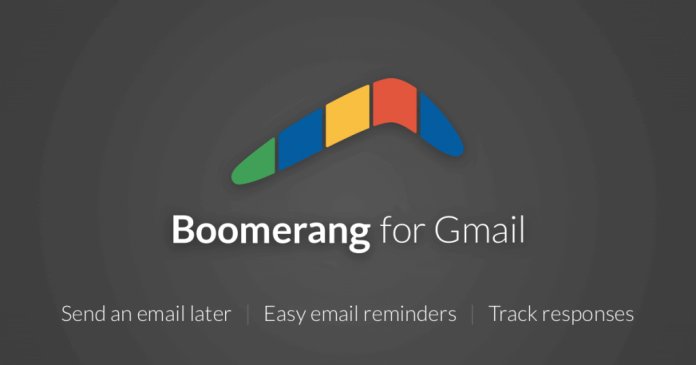 Boomerang is an email management software that enables you to schedule emails to send later and follow up on messages that you don't get a reply. You can also snooze an email to have it reappear later or share real-time availability with contacts. Boomerang email management software includes an AI assistant that helps you write better emails, backed by data from millions of emails, and provides inbox pause, which blocks incoming emails while focusing on the vital task.
Types of Email Management Software
Web-based email apps: You can access the app via the cloud, and your data is stored in the cloud (vendor's server). No need to install an app; a quick setup enables you to run the app.
Desktop email apps: You can download and install the app on your computer and connect the app to the internet to send/receive emails or retrieve records from a cloud-hosted server.
Conclusion
In the workplace, managing email ineffectively can waste an employee's time and hamper other employees and negatively impact the organization. Email Management Software manages all your emails effortlessly with less manual interruption. It is a systematic approach to maximizing the efficiency of email practices and minimizing the negative effects of email handling on an individual's productivity and job satisfaction.