What is a CRM Software?
CRM (Customer Relationship Management) software helps businesses manage and track customer interactions in a single record system. Allows you to record interactions between a business, its prospects, and its existing customers. CRM (Customer Relationship Management) software will also ease all interactions by placing all relevant customer data, including contact information, history, and transaction summaries, into a concise live record. CRM software enables you to control your business entirely so that you can keep track of sales, leads, customer interactions, etc.
CRM (Customer Relationship Management) software is commonly implemented in sales departments to act as the central hub for sales automation, including contact, account, and opportunity management. It is often integrated with other business applications to facilitate an enhanced and coordinated customer experience.
Features of CRM Software
List of CRM Software
When you start looking for the best CRM software, it is easy to get overwhelmed with the list of options available. Here is the handpicked list of CRM software to choose as per your requirement: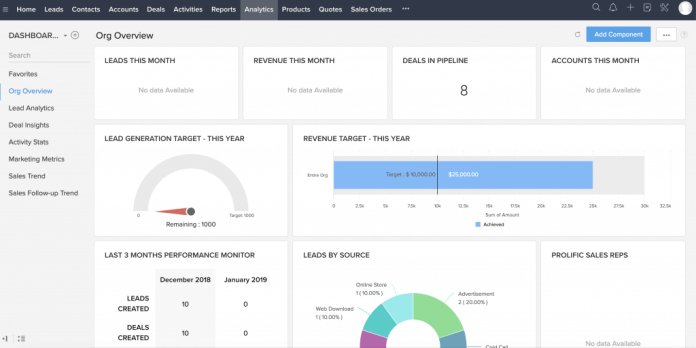 Zoho CRM is a cloud-based business management software designed for businesses of all sizes. Zoho CRM software offers sales and marketing automation tools with helpdesk, analytics, and customer support functions and helps users respond to customers across channels in real-time. Zoho CRM's AI-powered sales assistant can predict an appropriate time to contact customers. Scans emails for urgency and can display relevant statistics or documents when performing searches. Users can integrate with G Suite, WordPress, MailChimp, Evernote, Unbounce, etc.
Zoho CRM is available in several editions such as Free, Standard, Professional, and Enterprise editions. It means different packages with different feature sets, allowing business owners to choose the features that meet specific business requirements while controlling the CRM package's overall cost. Allows you to identify and target inactive leads with historical data to realign your customer messaging.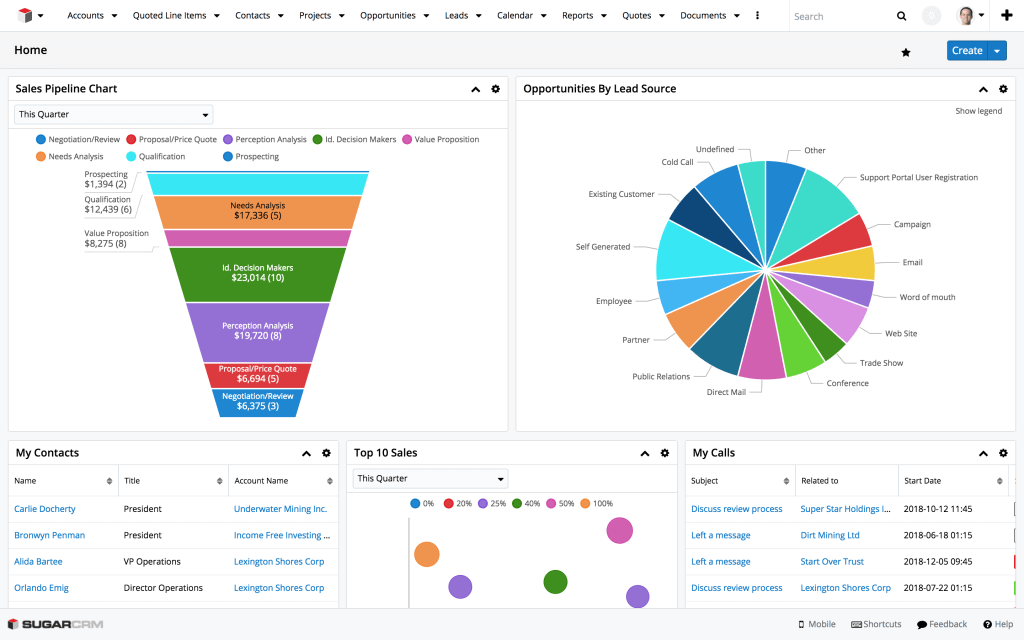 SugarCRM is a cloud-based software for managing sales automation, marketing automation, account management, and customer relationship management. It offers customizable home pages, a shortcut bar, enhanced-view global search functions, and downloadable plug-ins. It integrates with multiple third-party systems, and it supports Windows, Linux, and Mac. The mobile access can be customized according to specific usage, and an offline client synchronization feature ensures the data is always up-to-date. You can modify documents and notes as per your requirements, attach large files with ease, and tag contacts for easier tracking.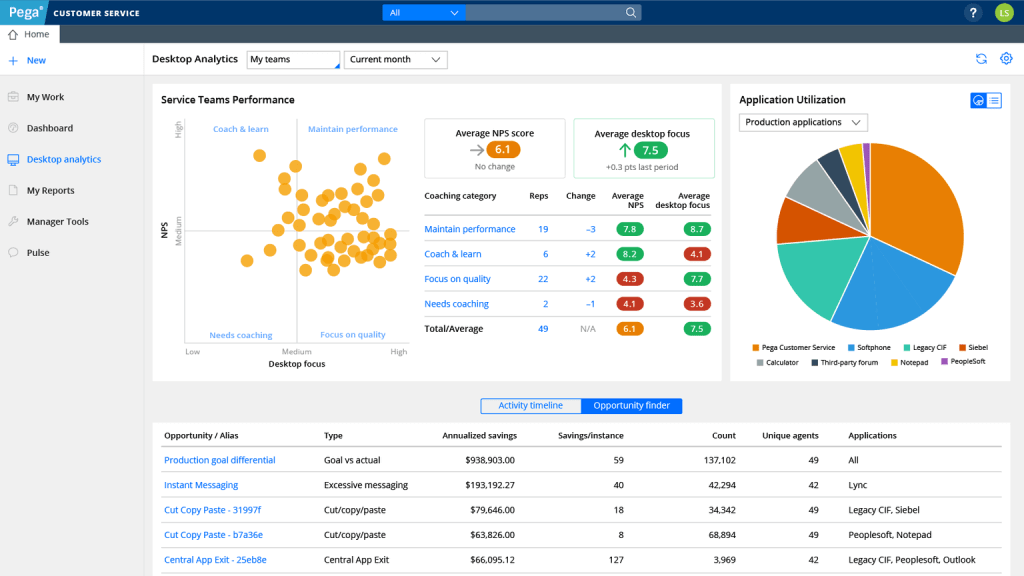 Pega CRM is enterprise-level software that integrates sales, marketing, and customer service. Offers end-to-end automation and real-time artificial intelligence abilities to drive insights throughout customer engagements and provides tools that connect customer conversations across multiple channels. Pega CRM helps in identifying possible leads and opportunities within the sales pipeline. Supports integration with Outlook, Gmail, and other Email service providers to manage emails and schedule meetings from a single interface.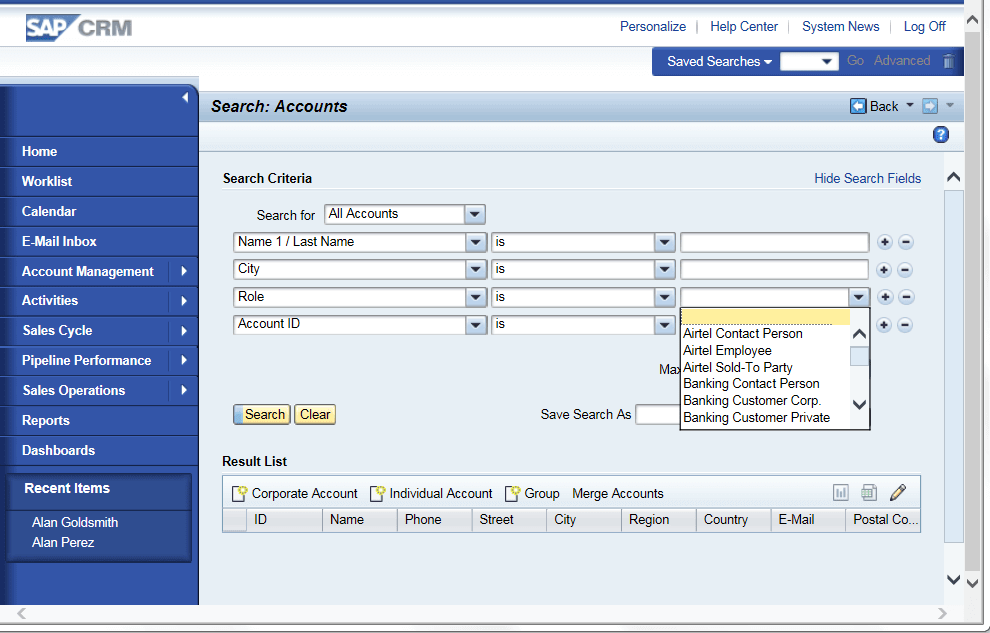 SAP CRM Software is built to enhance your engagement capabilities and provide personalized customer experiences across multiple channels. All customer interactions, from a call, email, social media, and live chat, can be tracked, managed, and evaluated. Tasks and dates can be prioritized, and follow-ups can be scheduled. SAP CRM provides marketing solutions for big data analytics, social media marketing, segmentation, multichannel campaigns, and resource management.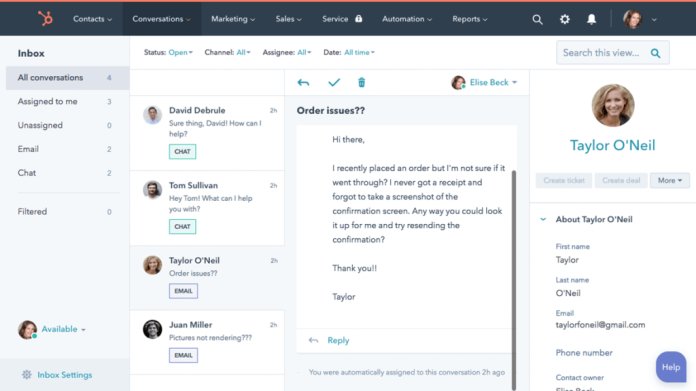 HubSpot CRM is a cloud-based software for businesses of all sizes. Suitable for any B2B or B2C business in various segments, including accounting, marketing, sales, construction, retail, real estate, etc. It offers outbound and inbound marketing, sales automation, sales pipeline management, customer relations management, email tracking, lead management, contact management, etc. Enables you to create and manage email templates. HubSpot CRM integrates with other HubSpot tools such as HubSpot Marketing Hub, HubSpot Sales Hub, and third-party platforms, including Zoho CRM, Salesforce, SugarCRM, etc.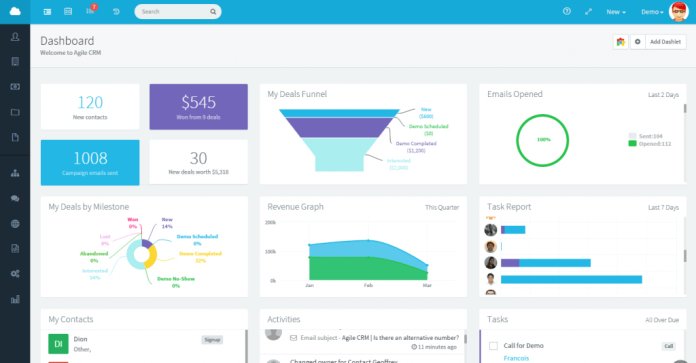 Agile CRM is fully integrated with sales tracking, contact management, marketing automation, web analytics, 2-way emails, with a clean, modern interface. Cloud-based software designed for small and midsize businesses. Agile CRM allows users to record and access customer data such as contact information, interaction records, social media accounts, and lead scores. Offers email integration, allowing users to sync data with email services, including Gmail, Office 365, Microsoft Exchange, etc.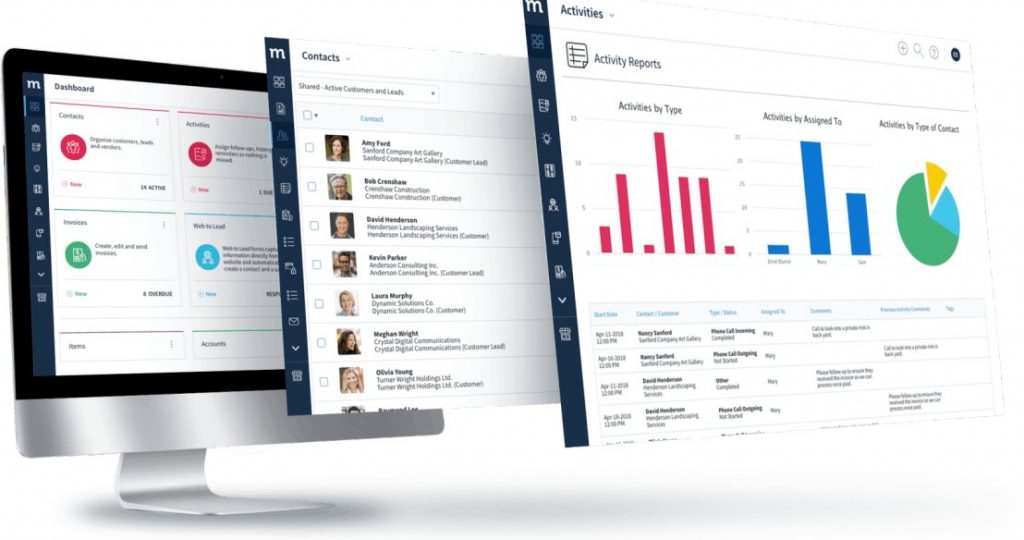 Method CRM is cloud-based software designed to help small and medium-sized businesses to automate their sales processes and increase efficiency. Provides two-way integration with QuickBooks to close deals faster and eliminate duplicate entries. Can help small business owners grow through a reliable workflow while staying updated regarding customers' demands. Provides fully customizable tools that allow dragged and dropped across the window. Method CRM integrates with Outlook, Gmail, SmartVault, MailChimp, etc.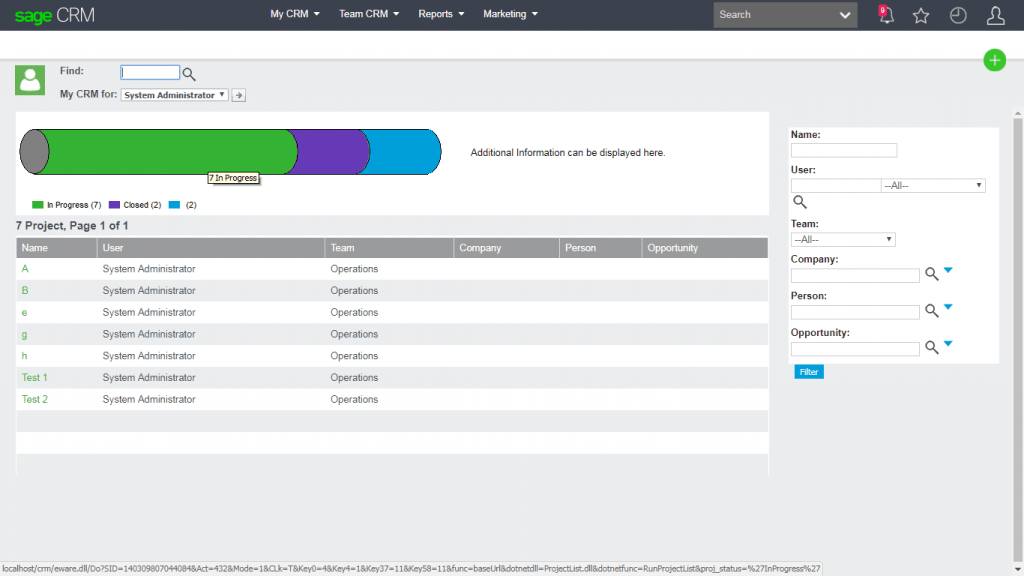 Sage CRM is a cloud-based software designed to help small and midsize businesses to optimize their customer experience by offering tools to manage existing and new client relationships. It includes integrated modules for sales and marketing automation, customer service, help desk, etc. Sage CRM can track the sales agent's performance, forecast trends, schedule meetings, etc.
Sage CRM helps you to manage campaigns across multiple channels. Allows sending promotional messages and newsletters to the contacts. Enables you to identify and track the sources for opportunities, leads, and closed deals.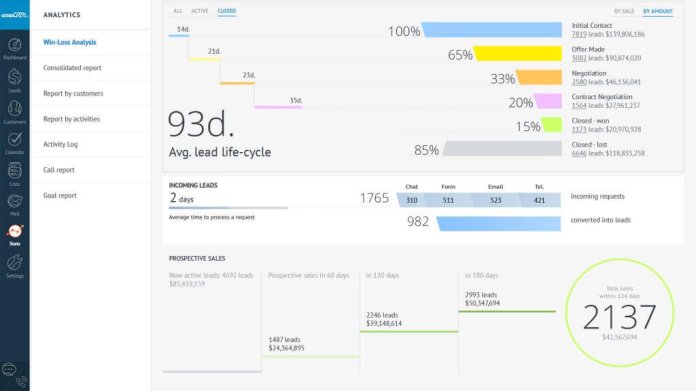 AmoCRM is a cloud-based, user-friendly software that allows you to manage your B2B leads and sales. Allows you to organize your customer database to make better sales decisions. AmoCRM helps you track your performance, gives a clear overview of your progress, and maximizes your agents' productivity. You can manage information with just a few clicks and keep track of all contact details and notes. AmoCRM's multichannel communication lets you converse through messengers, emails, and calls from a single app.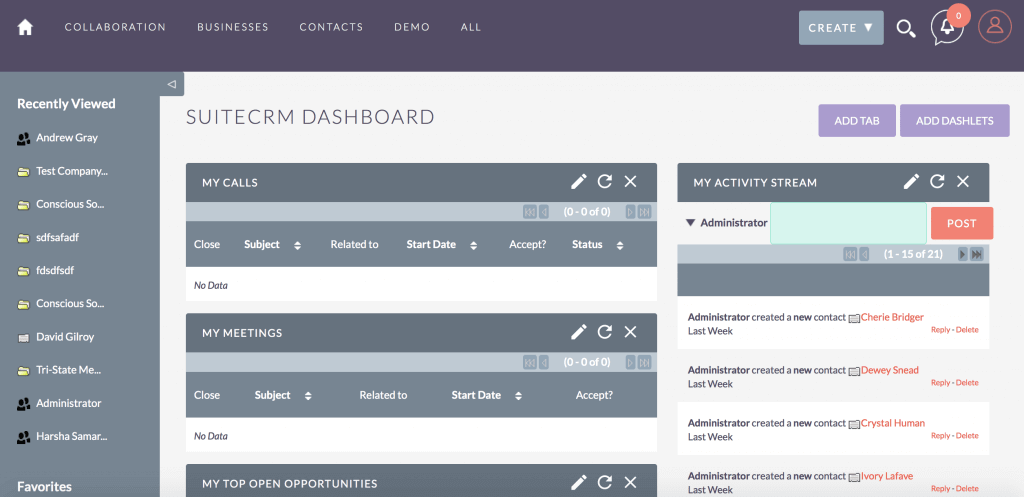 SuiteCRM is free and open-source software that gives users highly actionable insights to base critical business decisions, actions, and strategies. Offers self-service portals that enable users to deliver high-quality and interactive support to their customers. It is designed to improve business sales and allow companies to accelerate product development and customer care innovation. SuiteCRM helps businesses engage with their potential clients and existing customers at every point of contact and optimize all opportunities.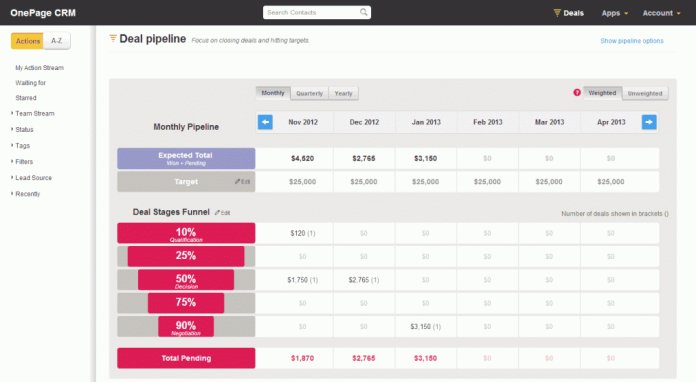 OnePageCRM is a cloud-based software. It allows for one-click lead capture from various sources, such as LinkedIn, Gmail, and Twitter. This software can be integrated with several third-party lead generation, communication, and financial applications. It allows for the consolidation of business contacts and the merging of duplicate entries. OnePageCRM keeps informed sales team by sending notification emails to each member of a sales team whenever a new task is assigned.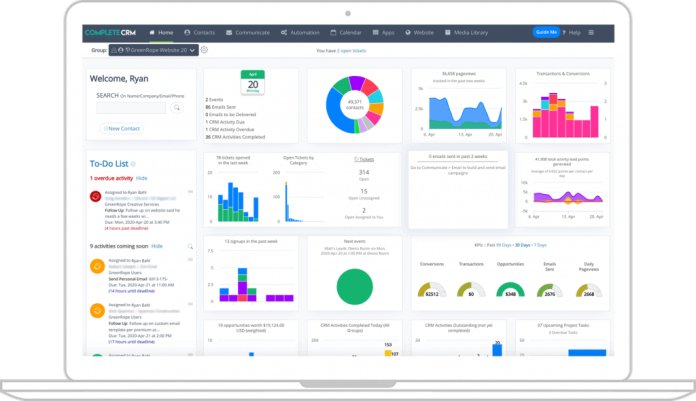 Complete CRM is software that integrates sales, marketing, customer service, and operations into one database. Enables you to gain a 360-degree view of your customers and your business. It integrates with multiple third-party systems. Complete CRM enables your entire team to log into one platform. Each employee is given specific access & permissions to the data and features they need to perform their jobs effectively. With each team member logging and working in one system, you can increase collaboration, accountability, and transparency within your organization.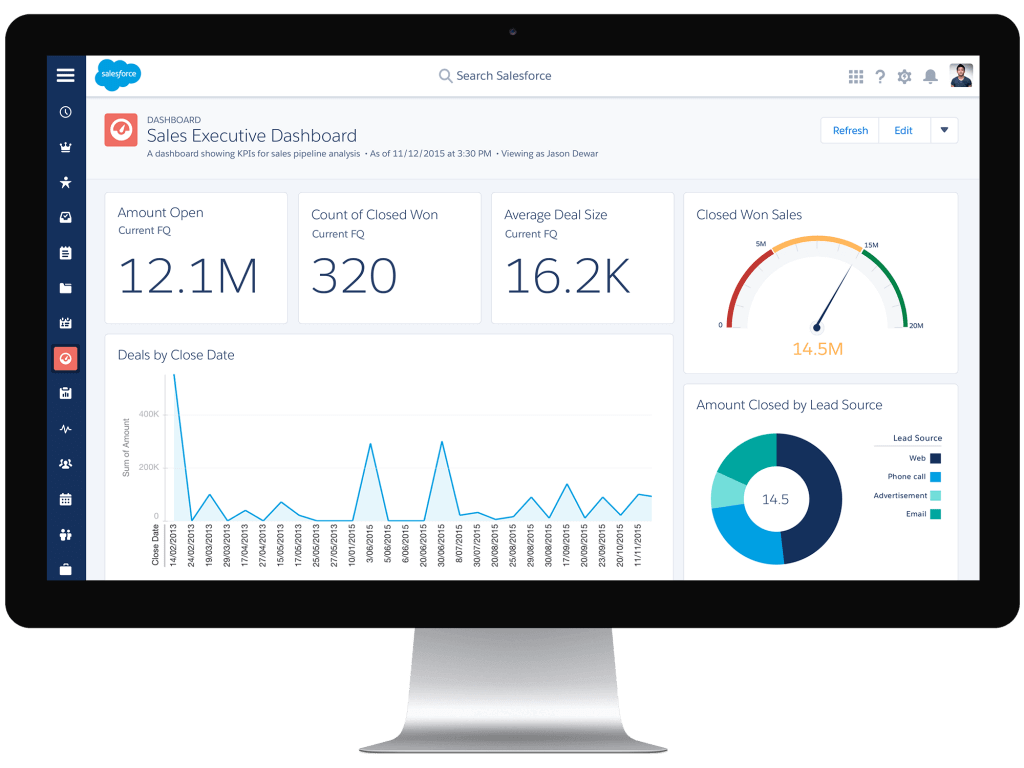 Salesforce CRM is software that helps you to track all customer information and interactions in one location. The software can increase the sales team's productivity. Allows you to get insights from varied, real-time customer data. Salesforce Sales CRM integrates with external business solutions, such as Desk.com, TeamSupport, LeadExec, FinancialForce ERP, Zuora, Zendesk, etc.
Salesforce CRM allows you to create campaigns and automate the whole process to generate quality leads and cut the sales cycle. A real-time view of your sales team's progress helps you to create weekly forecasts. It also provides you a drag-and-drop option.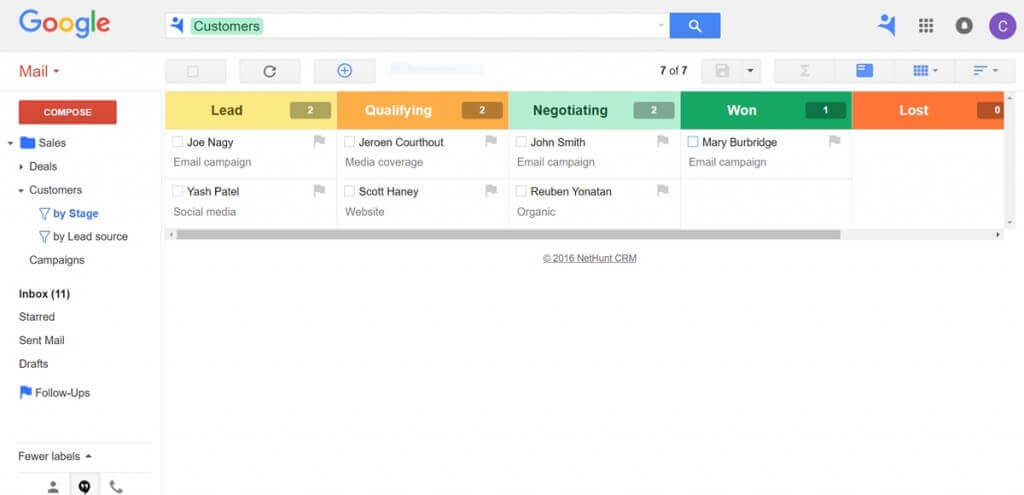 NetHunt CRM is a cloud-based software that integrates with Gmail and enables businesses to manage interactions and records directly from the inbox. Generates leads via email, chat messages, and social media. NetHunt CRM includes bulk email campaigning, open email tracking, email link tracking, reporting, a 360-degree view of interactions, permission management, and client management.
NetHunt CRM integrates with Gmail, calendars, Google Drive, Google Hangouts, Zapier, LinkedIn, Facebook, Twitter, Instagram, and WhatsApp. Its subscription plans include professional and enterprise, and users can select a plan on an annual or monthly basis.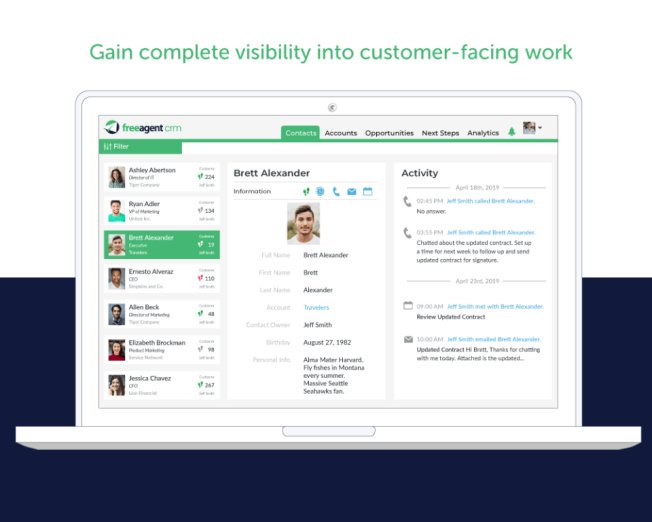 FreeAgent CRM delivers next-gen work experience on a customizable cloud-based platform that helps teams to unlock productivity and grow sales effortlessly. AI-guided selling allows you to see what you need and when you need, with a flow-based feed of prioritized tasks and key insights without leaving the page. You can zoom in and out between high-level overviews and deep-dive activity tracking that all happen automatically. FreeAgent CRM helps you to gain instant context into your customer relationships and view activity linked to any pipeline change and its impact.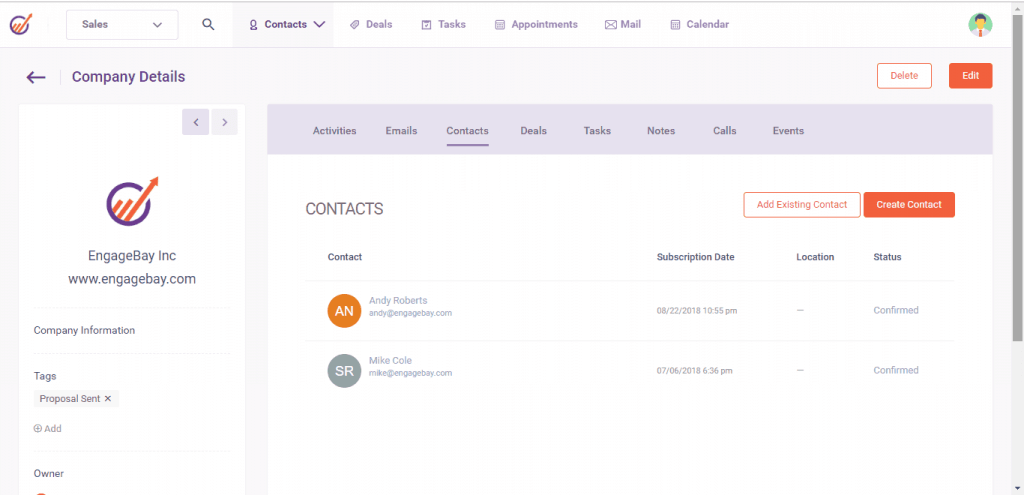 EngageBay CRM is a cloud-based software that allows businesses to manage and track all activities across customers, such as organize email contacts, monitor deals, grow sales, and build customer relationships. EngageBay CRM enables users to generate leads through automated email templates, customizable forms/popups, social media engagement, etc.
EngageBay CRM enables businesses to use Zapier and Xero integration to connect the platform with several third-party applications such as Salesforce, Intercom, MailChimp, Hubspot, etc. Allows you to keep track of prospects' actions and get notified when someone opens an email.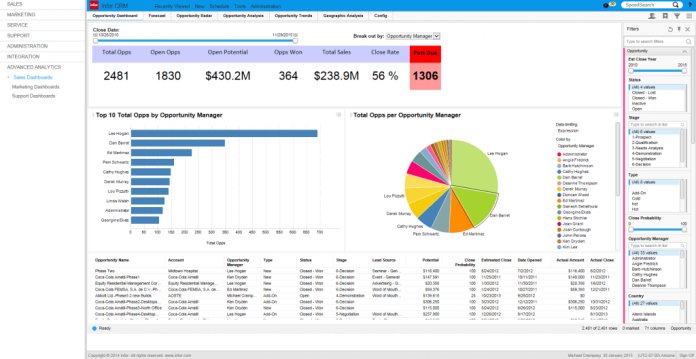 Infor CRM is a software suitable for businesses of all sizes that provide businesses comprehensive capabilities for managing sales, marketing, and customer service activities and information across the enterprise. Infor CRM offers deployment options, on-premises, and on the cloud. Allows you to address business requirements to create information-filled customer profiles, deliver integration and connectivity. It operates in a wide range of industries, such as manufacturing, distribution, logistics, healthcare, retail, property management, financial services, etc.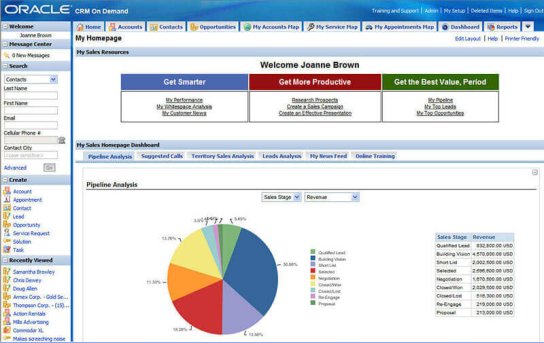 Oracle CRM is software help businesses optimize their sales processes and boost sales productivity. It has an intuitive and user-friendly interface and different deployment models. Allows you to make smarter business decisions since it helps you oversee and manage the different customer relationship stages. Oracle CRM can automate tasks such as forecasting optimization, analytics, and reporting. Enables you to regulate and manage customer relationships from lead qualification and categorization to opportunity tracking/management.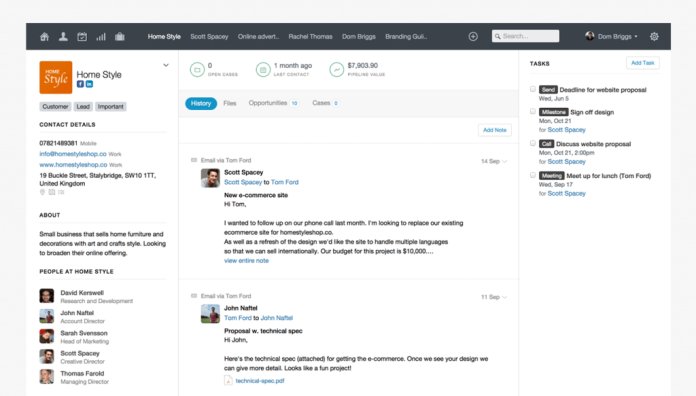 Capsule CRM is an easy, simple, and flexible cloud-based software for small businesses. Allows you to monitor your clients or other companies you are doing business with, such as tasks or activities you need to finish. Enables you to effectively handle your sales pipeline: monitor proposals, deals, bids, etc. Capsule CRM allows you to organize your emails, conversations, documents, and notes, thus assuring you have a complete history of different business documents and files in one single platform. Enables you to integrates with other software such as FreshBooks, Zendesk, Mailchimp, etc.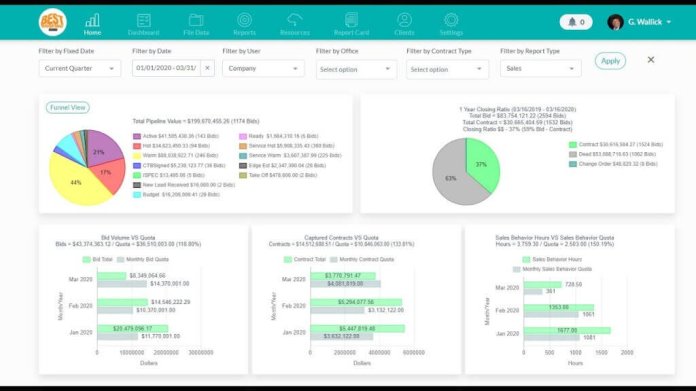 FollowUp CRM is a cloud-based software that offers sales tracking for the construction industry and is suitable for companies of all sizes. Offers features such as tracking pipelines, setting team members' goals, viewing reports, and coordinating the organization's workflow. FollowUp CRM keeps track of projects, bids, and leads in the pipeline, and users can view personalized information regarding their leads. Provides a historical interaction database and provides a library of analytical reports. Users can select reports directly from the library and can configure them as per their requirements.
Types of CRM
Operational CRM: Streamlines business processes such as marketing automation, customer service automation, and sales automation. Mainly used for lead generation, contact management, sales pipeline management, and workflow automation.
Analytical CRM: Helps businesses to determine the best ways to reach out to customers. Analyzes customer data from various channels to provide insights about each customer's status and your business's health. Analytical CRM help businesses make better data-driven decisions and understand sales, marketing, and customer service effectiveness.
Collaborative CRM: Enables businesses to share customer information across various teams in your company, including your sales, marketing, and technical support teams. Allows teams to share the data from a single data source and work in alignment with overarching business objectives.
Conclusion
Though it is traditionally used as a sales and marketing tool, customer service teams see effective CRM benefits. Today's customers might raise an issue in one channel such as Twitter, Facebook, etc., and then switch to telephone or email to resolve it privately. CRM (Customer Relationship Management) software enables you to manage inquiries across channels without losing track. It brings all information into one cohesive unit. Such as, a customer's complete history with your business exists alongside a list of your deals; your emails, notes, and appointments live in one interface.