What is a B2B E-Commerce Software?
B2B E-Commerce software allows businesses to sell products or services to other businesses using an online sales portal. It is designed to improve the efficiency and effectiveness of the overall processes of the business. Instead of receiving orders using human assets (sales representative) manually, orders will be received digitally by telephone, websites, or e-mail. B2B E-Commerce software enables a wholesale business to widen its reach and make existing operations more efficient. It also automates the processes and saves a lot of time.
B2B E-Commerce software offers flexibility and customization to accommodate large-scale businesses' unique requirements for handling manufacturers, distributors, wholesalers, and retailers. Allows users to reduce pricing errors among your channel partners. Enables users to reach your customers 24×7 with digital commerce to build a direct customer relationship.
Features of B2B E-Commerce Software
List of B2B E-Commerce Software
When you start looking for the best B2B e-commerce software, it is easy to get overwhelmed with the list of options available. Here is the handpicked list of B2B e-commerce software to choose as per your requirement: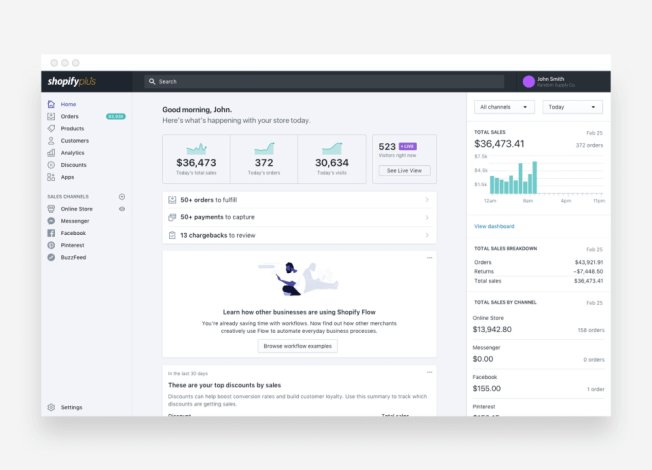 Shopify Plus is a multichannel e-commerce platform for large ventures, wholesalers, and enterprise-level e-commerce shops, allowing for a higher level of customization, high-demand sales, and scalability. Shopify Plus, B2B e-commerce software, enables you to manage products, content, and pricing without code, including conversion-tested themes for personalized design layouts and functionality.
Shopify Plus allows users to get full control over the entire checkout process and access to over 100 payment gateways. Its advanced reporting and analytics features, boosted by google's enhanced e-commerce analytics engine, help online retailers get deep insights and understand customers better. Allows users to sell in multiple regions in different languages.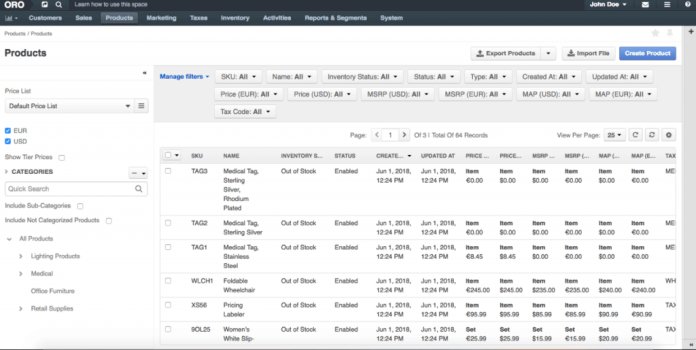 OroCommerce is an open-source B2B e-commerce software for middle and large-sized companies, with built-in CRM and third-party application integrations. It is suitable for a distributor, a retailer, a manufacturer, or a wholesaler. OroCommerce B2B software offers tools such as corporate account management, access controls, permissions, content management and enables you to streamline workflows and ensure the organization's consistency of information. Allows users to build and grow your online presence and even expand into the mobile arena.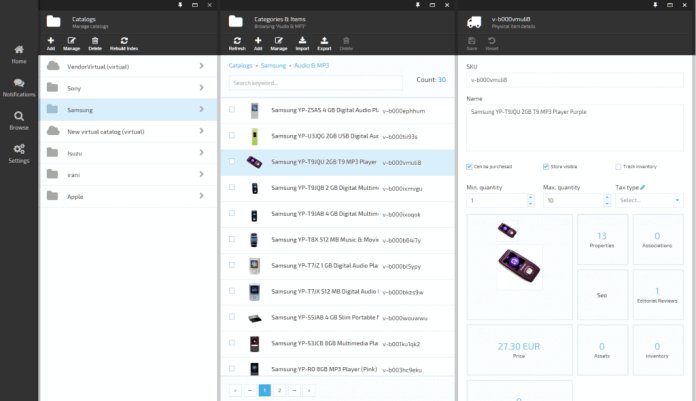 VirtoCommerce is an open-source and reliable B2B e-commerce software that allows you to quickly create powerful online-stores with multi-channel collaboration capabilities with many suppliers, partners, and wholesale customers. Enables users to consolidate and standardize all typical B2B processes, such as warehouse management and partner collaboration. VirtoCommerce B2B software is a multi-channel solution that helps organizations manage sales, product catalogs, payments, inventories, reports, etc.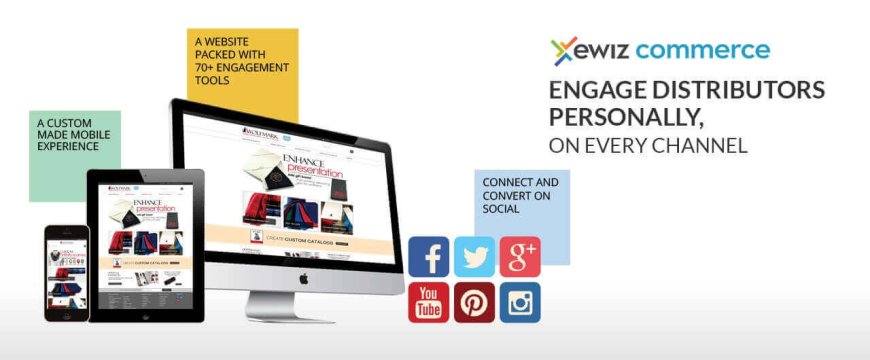 Ewiz Commerce is a B2B e-commerce software that helps businesses of all sizes to optimize operations related to marketing, customer relationships, campaign planning, etc. Built-in CMS enables administrators to create SEO-optimized content and web page layouts, as well as custom catalogues with product codes, categories, markets, descriptions, images, and videos. Ewiz Commerce B2B software allows users to monitor product collections, create email templates, manage site configurations, and export product data in multiple file formats.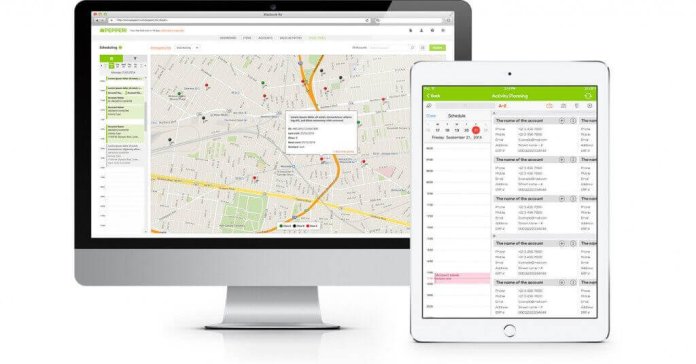 Pepperi is an intuitive B2B e-commerce software trusted by retailers, wholesalers, and growing companies. It is equipped with sales automation, merchandising, route accounting, and CRM. Configurable and easy to customize and will adapt instantly to your specific workflows. Pepperi B2B e-commerce software includes catalog, inventory, channel, order, promotion, return management features, maintains customer accounts, etc. Allows users to securely integrate with ERPs such as SAP Business One, SAP Business ByDesign, etc.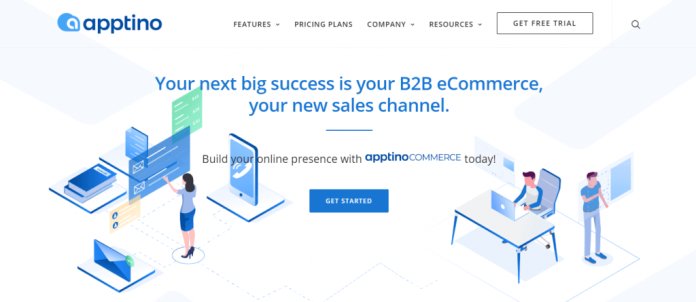 Apptino Commerce is a B2B e-commerce software that empowers manufacturers, distributors, and channel partners, to build their e-commerce in just weeks. Apptino Commerce B2B software helps businesses to bring their sales teams, service teams, channel partners, influencers & it's customers on a digital commerce platform to provide an omnichannel experience. Allows users to upload excel to quote or order cart to increase efficiency.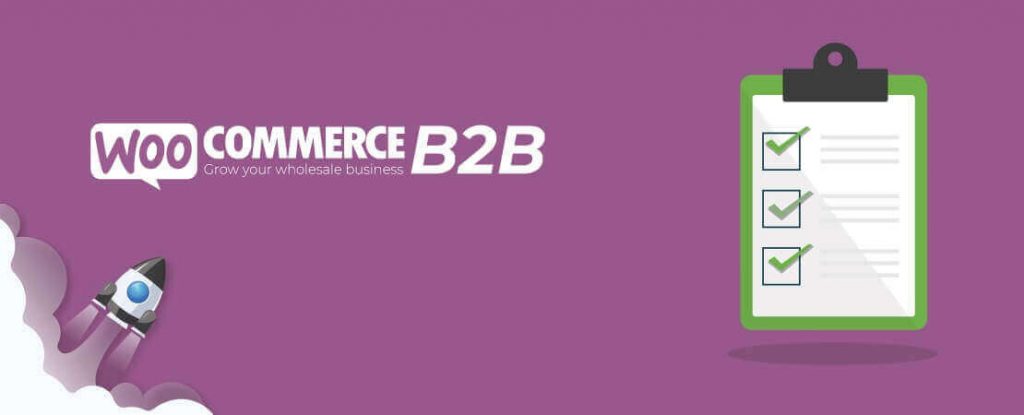 WooCommerce B2B is a complete wholesale suite that allows you to create a wholesale store on WooCommerce and cater to business buyers' unique needs. Enables users to manage wholesale e-commerce: price lists, hidden prices, customer groups, VAT handling, and payments method. WooCommerce B2B software also allows you to hide catalogue prices, products, and selected pages until the customer logs in.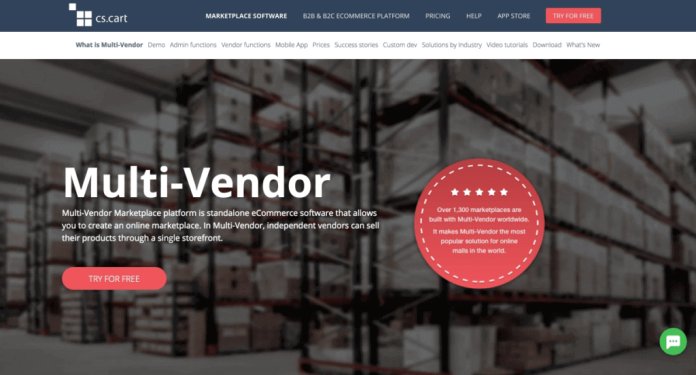 CS-Cart is a B2B e-commerce software to build online stores for manufacturers and wholesalers. It provides a full-fledged administration panel with lots of tools for effective store management. CS-Cart B2B e-commerce software comes with a built-in theme and layout editors allowing you to make personalized storefronts. CS-Cart allows you to automate the purchasing process and also enables you to create an unlimited number of storefronts and manage them via the single administration panel.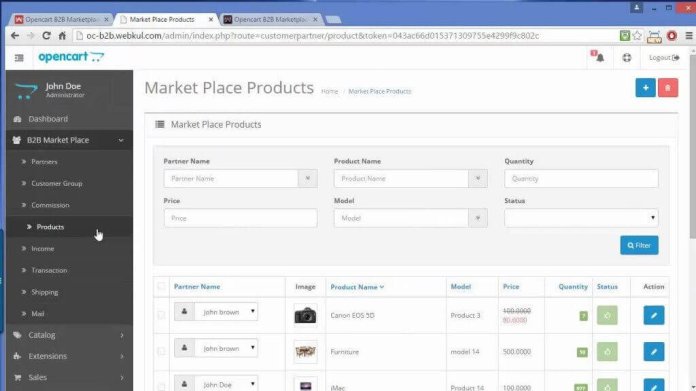 Opencart B2B is an e-commerce software that helps suppliers worldwide connect via one online platform to communicate and sell products worldwide. It provides immense functionalities, including customer groups, separate seller product collection, product mass upload, request for quotation for both the custom and existing products, product question answer, vendor sub-domain, etc. Opencart B2B e-commerce software also allows the admin to determine the lower stock notification alert and lower stock range.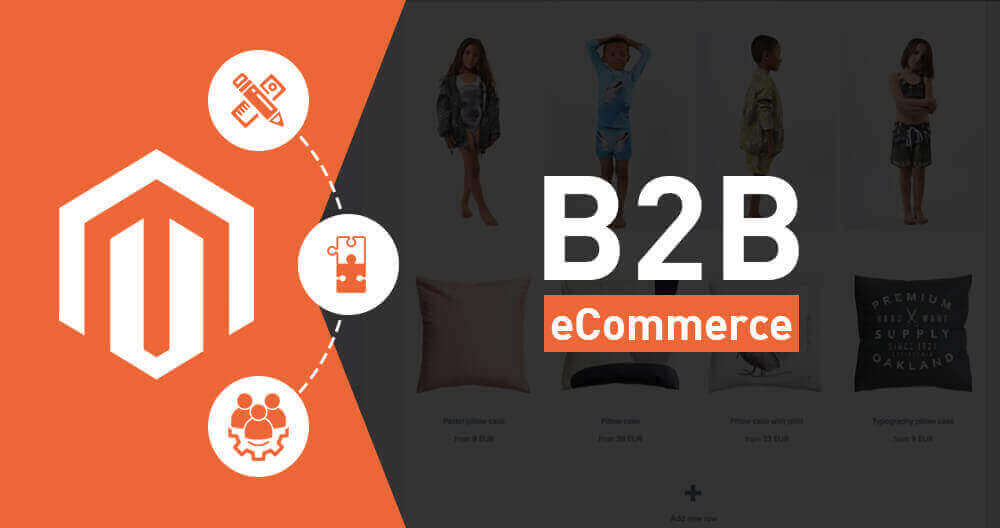 Magento B2B is a popular open-source B2B e-commerce platform that offers unlimited integrations and an extensive extension library. Provides all the critical functionalities, such as managing multiple brands, partner accounts, etc. Magento B2B e-commerce software allows B2B buyers to enter SKUs or upload CSVs to place orders quickly. It also supports customer quoting and price negotiations with a streamlined request for quote workflow that can entirely manage within Magento or via external systems using APIs.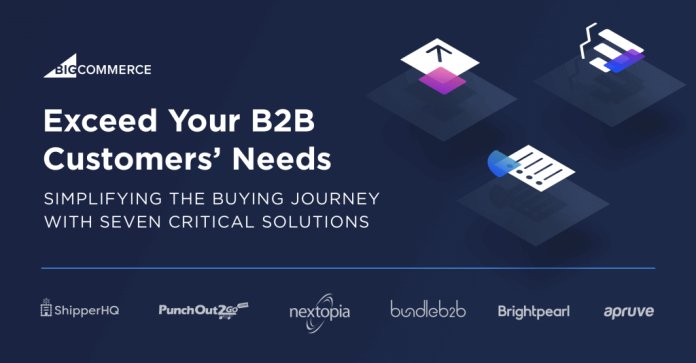 BigCommerce is a B2B e-commerce software that empowers your team to manage a website consisting of large catalogs. Allows users to automate customer and pricing segmentation, purchase orders, payment terms, user roles, and integrations with major ERP, OMS, and CRM systems. BigCommerce B2B software provides native CSR-generated quote management, and bulk pricing is broken down to the SKU level for each customer and customer group. Enables users to access shopping lists created by a customer and create a custom quote.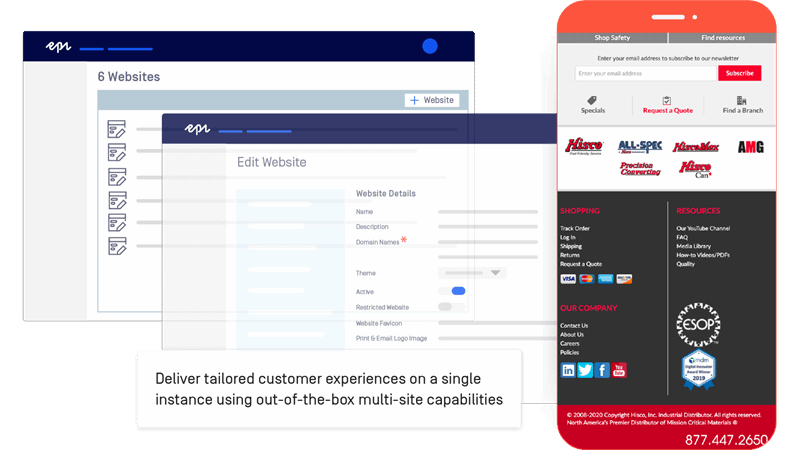 Episerver B2B is a cloud-based B2B e-commerce software that allows small teams to quickly set up catalog and product data requirements and manage the curation process or data acquisition. Build to help distributors and manufacturers to drive efficiency. Episerver B2B e-commerce software enables you to target existing customers or find and engage new customers with deep personalization capabilities. Allows users to manage multiple sites from a single platform to deliver personalized experiences by segment, location, or device.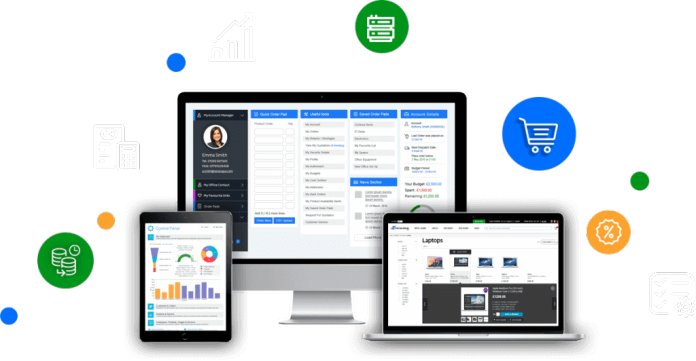 Netalogue B2B is a B2B e-commerce software designed to serve manufacturers, distributors, and wholesalers. It provides multi-store management and promotions management in one place. Netalogue B2B e-commerce software continuously analyses and reviews the world of B2B e-commerce to determine which features and functionality are essential to most businesses. Enables users to receive orders online, promotes different catalogs and price lists, and even provides self-service options so your customers can view real-time invoices and statements.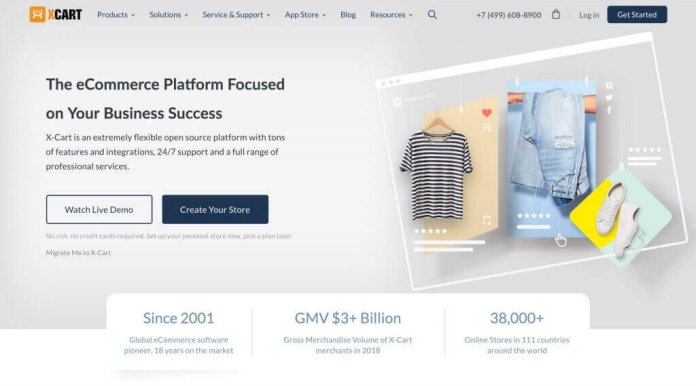 X-Cart is an open-source, B2B e-commerce software that offers many features and integration support for creating a successful e-commerce business. Integrates with all major shipping providers, payment gateways, marketing platforms, accounting systems, and CRMs to handle an online store in one place. X-Cart B2B e-commerce software provides you with 400+ payment systems. Provides a library of pre-designed templates that helps you to personalize your business platform.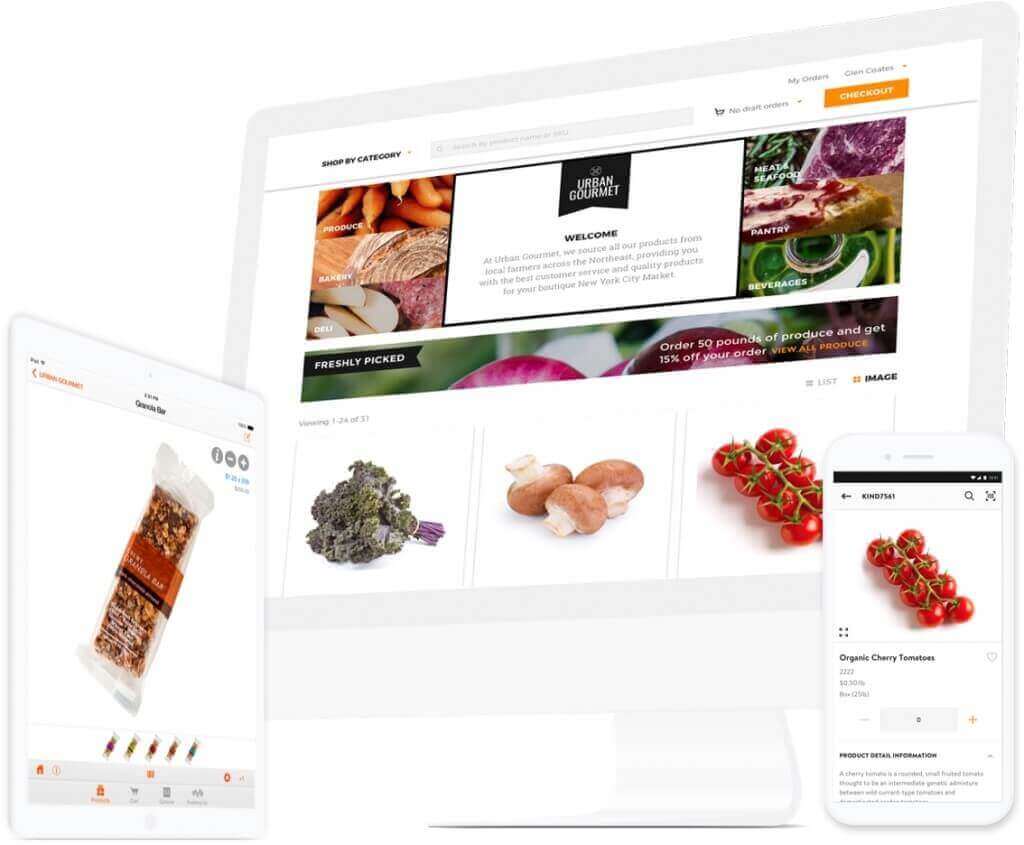 Handshake B2B is a B2B e-commerce software with an intuitive and comfortable user experience. Handshake allows manufacturers and distributors to create promotional and landing pages and share with retailers via email to promote a specific product or sales campaign. Allows users to integrate with third-party applications such as NetSuite, QuickBooks, Salesforce, and MS Dynamics. Handshake B2B e-commerce software also helps users search for new customers, monitor customer engagements, and manage retailers.
Conclusion
B2B E-Commerce has rapidly grown in the past few years. Proper implementation of B2B e-commerce is useful for both customers and sellers. Enables users to reach their customers anywhere, anytime, and help you find new customers & bring back your existing customers who haven't ordered in years. B2B E-Commerce Software also allows users to make all their decisions based on facts.