What is an Inventory Management Software?
Inventory management is essential for businesses of any size. It enables you to know when to restock inventory, what amounts to purchase or produce, what price to pay, and when to sell. Allows businesses to manage and track inventory from the manufacturer to the warehouse to the sale point. Inventory management software also helps with other processes such as accounting, invoicing, making reports, keeping track of shipments, etc. If the software is cloud-based, you can sync it up with your other cloud applications and access your data anywhere, at any time.
Inventory management software helps you control system-wide inventory across geographically-dispersed locations to efficiently manage your distribution process without losing track of sight of costs. Receive stock to a specific site and drill down to change item default lot/serial numbers, valuation methods, etc.
Features of Inventory Management Software
List of Inventory Management Software
When you start looking for the best inventory management software, it is easy to get overwhelmed with the list of options available. Here is the handpicked list of inventory management software to choose as per your requirement: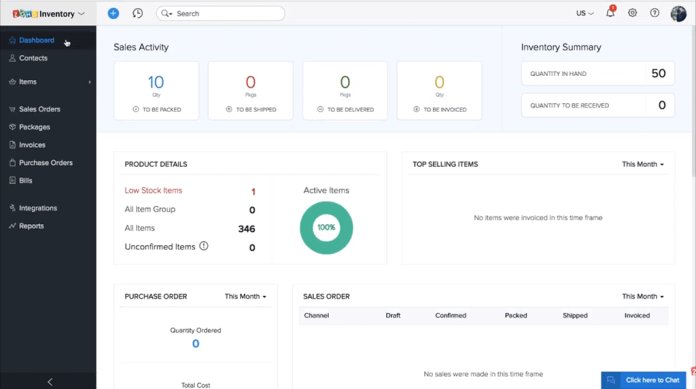 Zoho Inventory is a cloud-based inventory management program that helps you create and manage sales, purchase orders, and track inventory. You can manage stock at multiple locations and keep track of inter-warehouse transfers effortlessly. Track the movement of each item and watch on batch expiration dates with unique identifier codes. Zoho Inventory management software allows you to convert a sales order into an invoice, send it via mail, and track its status.
Zoho Inventory also enables you to generate packing slips and print shipping labels in your preferred format. You can create a price list for regular vendors, update the prices automatically, maintain your purchase order history, and keep track of your unpaid bills.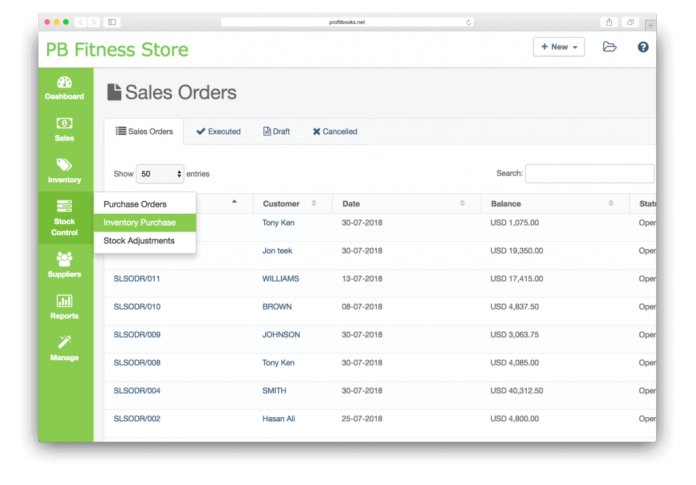 ProfitBook is a cloud-based inventory management software that automates your workflows and accelerates purchase requisitions. Enables users to create sales orders easily, record purchases, track inventory, and manage the entire order workflow. You can also fulfill the orders partially and create invoices only for the delivered items. ProfitBooks inventory management software enables you to create multiple warehouses to track your inventory better and decide where to keep the stock while making a sales bill.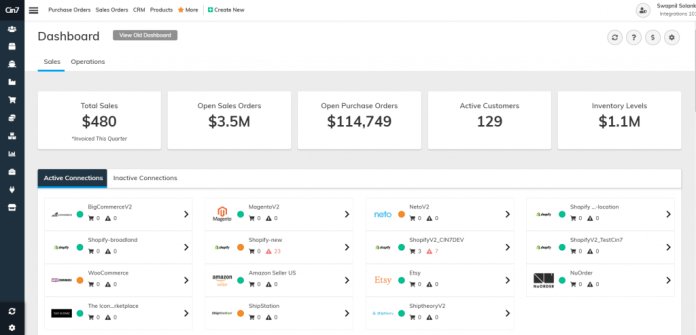 Cin7 is an automated point-of-sales package and inventory management software. It gives retailers, wholesalers, and simple manufacturers one solution to keep orders in line with inventory for every stock location and sales channel. Provides real-time visibility and advanced reporting to help brands optimize inventory, reduce costs, increase margins, and maximize cash flow. Cin7 inventory management software can also be used with numerous eCommerce systems, making it ideal for online shop owners.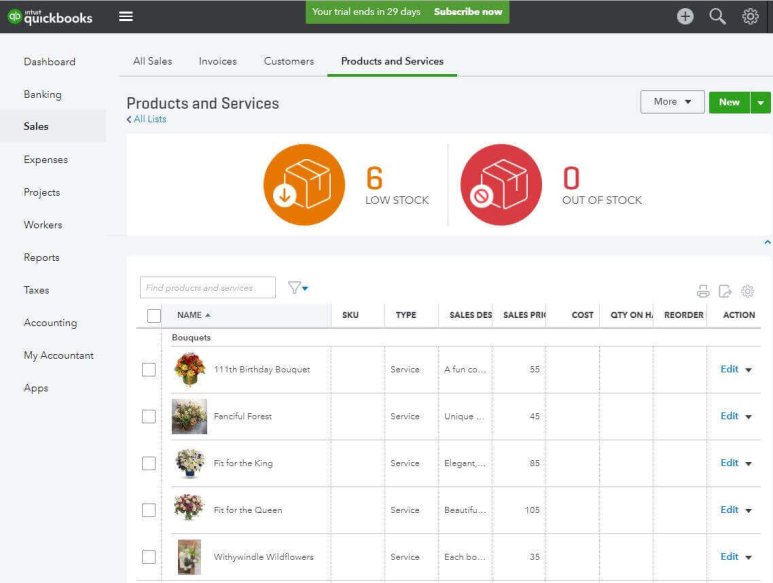 Quickbooks enable you to track what you've ordered from each vendor. You can organize contact information for multiple vendors in one place to make reordering easier. Your inventories are automatically updated when you buy and sell products, making it easy to see what you are selling and what you need to reorder. Quickbooks inventory management software enables you to create custom and professional invoices, sales receipts, estimates, record bills from vendors, and pay to vendors only when due.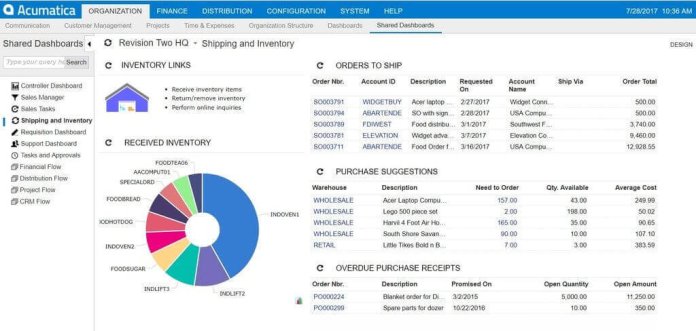 Acumatica is a cloud-based inventory management software that offers real-time access to available inventory, reorder quantities, inventory in transit, and inventory costs so you can efficiently manage your distribution process. Acumatica inventory management software allows you to select a different valuation method for each inventory item. A set of reports and inquiry screens provides up-to-date valuations and enables you to make direct adjustments to cost and physical inventory count.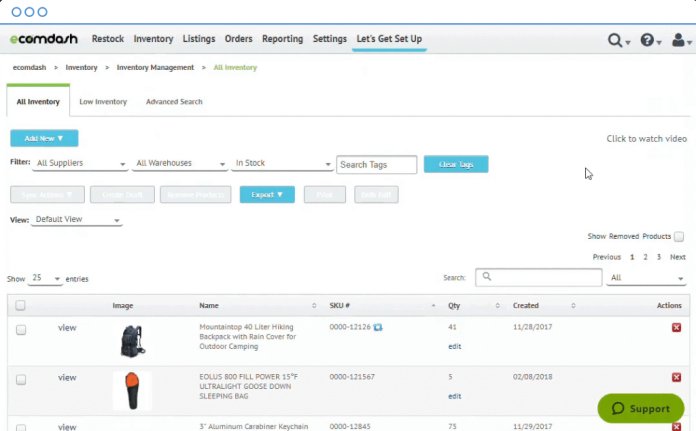 Ecomdash is a cloud-based inventory management software that integrates standard inventory management features with shipping management and order management into one platform. It is designed for small and mid-sized online retailers who sell through multiple channels. Ecomdash inventory management software gives you the option of managing all your online sales channels from one dashboard. Coordinate sales and stock levels on eBay, Amazon, etc., with reporting and auto-synchronizing. Allows users to tag products and organize them in the system by different categories and groups.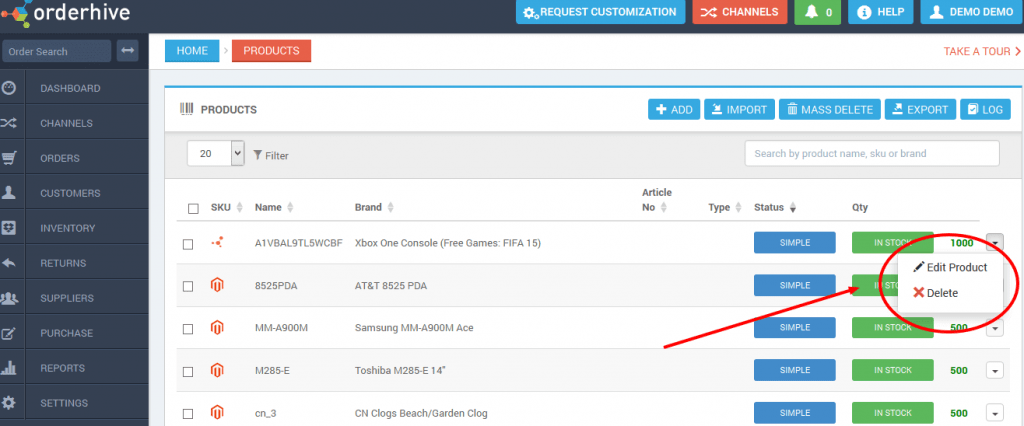 Orderhive is a cloud-based inventory management software created for medium, small, wholesalers, large retailers, and distributors. Allows retail sellers to track their orders, inventory, and shipments across all of their online sales channels, analyze team performance and locate stock in the warehouse. Orderhive inventory management software also provides users with real-time updates about their business via a reporting and analytics feature.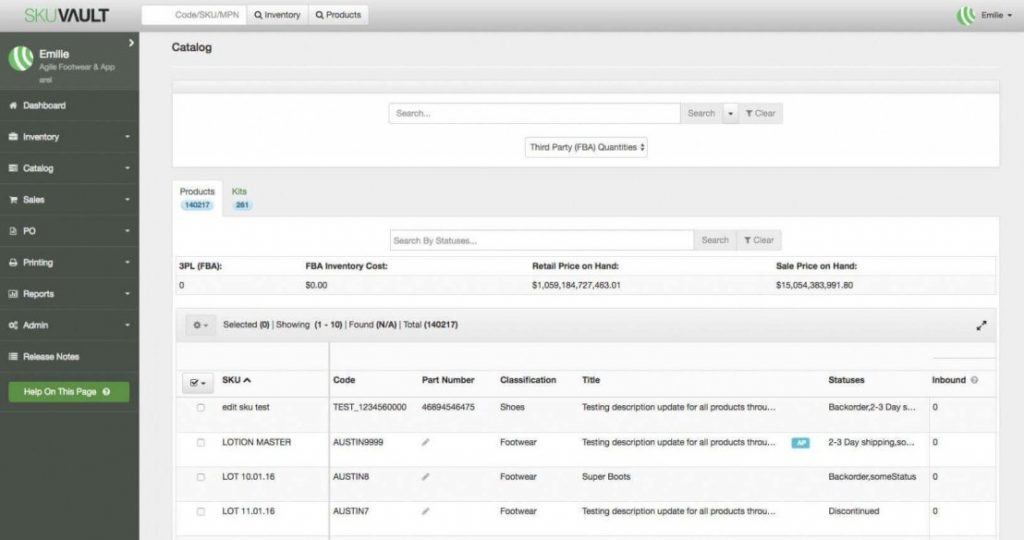 SkuVault e-commerce inventory management software allows you to sync your e-commerce sales channels, manage your inventory, and generate reports. Manages workflows and processes that oversee stocked products' levels and status in a warehouse or multiple warehouses. SkuVault inventory management software enables users to know how much inventory you have listed on your sales channels and when you require restocking.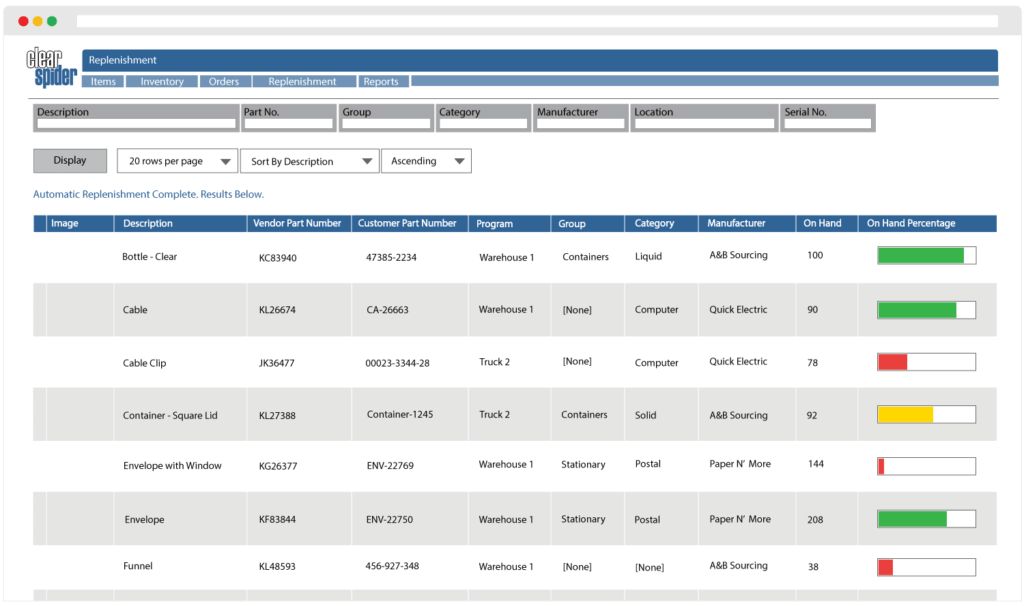 ClearSpider is a cloud-based inventory management system that provides enhanced visibility at thousands of forwarding stocking locations. It is made possible through a highly customizable platform, limitless integration options, a smooth implementation, and mobile capabilities. ClearSpider helps drive successful business decisions using metric-driven data presented in multiple reports to your specific needs. ClearSpider inventory management software provides clarity to track your inventory processes via a centralized database with powerful back-end support.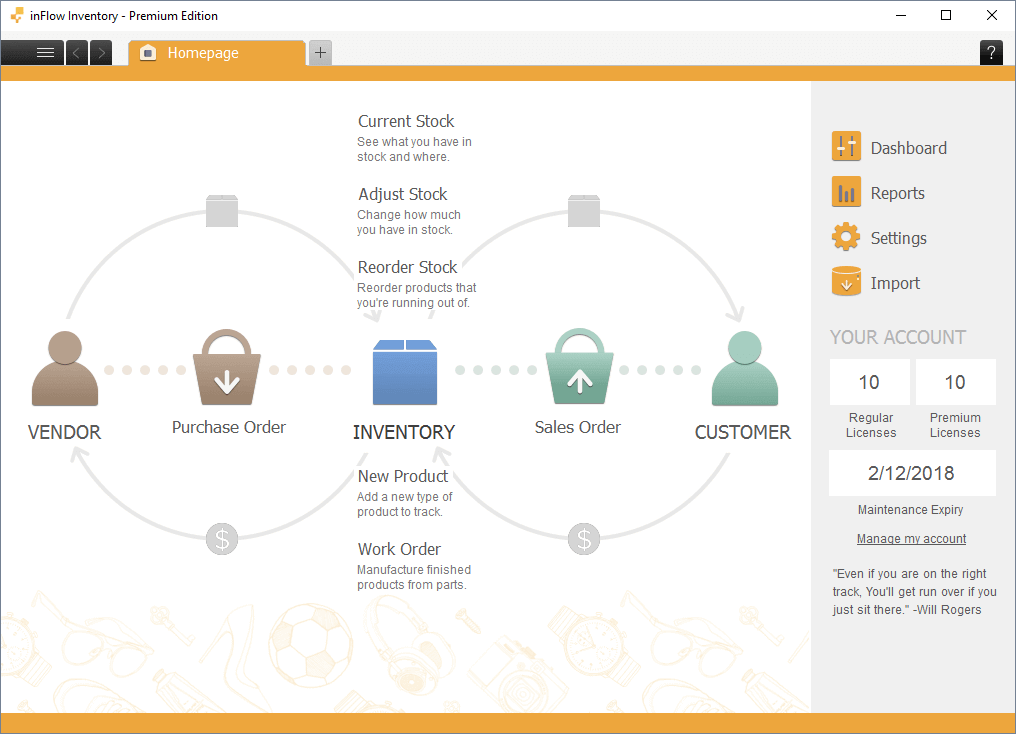 InFlow is a Windows and Microsoft SQL-based inventory management software suitable to the needs of mid-sized and large enterprises across industries. It includes manufacturing, healthcare, wholesale and retail, government, and e-commerce. InFlow inventory management software also provides order management, stock management, invoicing, and reporting. It can be deployed either as a cloud or an on-premise system. InFlow has advanced modules for shipping, supplier, warehouse, reorder management, barcoding, inventory forecasting, and custom pricing.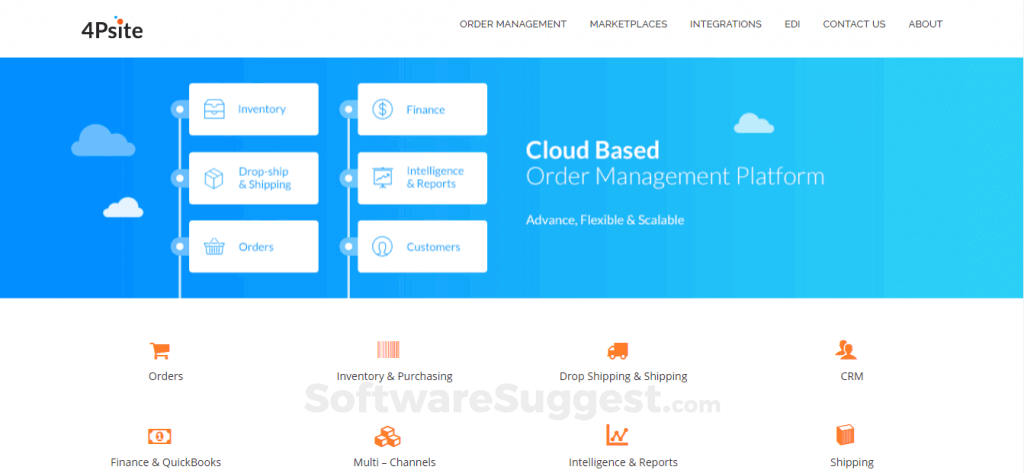 4PSite is a cloud-based software for retail businesses that helps manage inventory, shipping, orders, etc. A web-based central inventory manager for your stores and allows you to have an accurate inventory count for your items. 4PSite inventory management software automatically keeps track of your stock based on incoming and outgoing orders and sends inventory updates to your channels. Out-of-stock items can automatically be placed on backorder.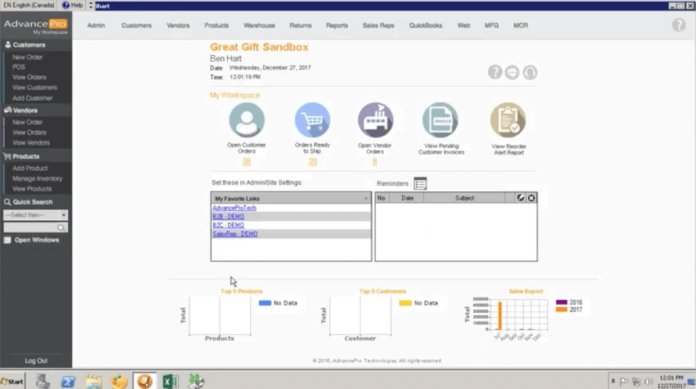 AdvancePro offers cloud-based inventory management software for various industries to manage buying, warehousing, selling, and shipping processes. Closely visualizes the stock levels and allows users to inform customers of real-time product availability while making a sale. AdvancePro inventory management software is a fully integrated solution that connects with major accounting, e-commerce, and shipping platforms.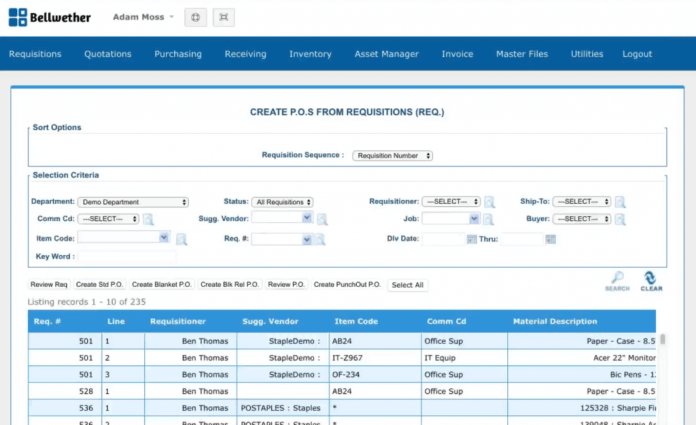 A bellwether is a cloud-based software for businesses. Easy to set up and includes purchase orders, invoicing, receiving, and inventory. It offers three packages perfect for non-profits, small organizations, and midsize and large businesses. The requisition module enables users to select items, add them to the shopping cart, customize the field in order, and view budget spend by percentage. Supports full statistical control, including minimum and maximum stock levels and reorder quantity.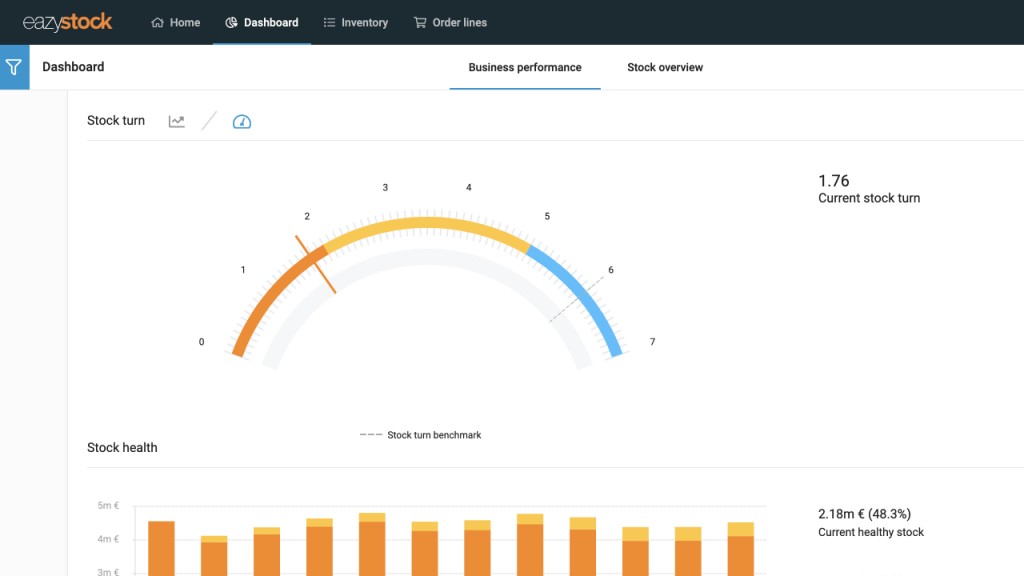 EazyStock is a cloud-based inventory software for wholesalers, distributors, manufacturers, and retailers across various industries. Automates your inventory management to reduce excess inventory, increase your service levels, reduce the amount of time spent on manual stock. It gives real-time visibility of the information required for the effective inventory management of demand forecasts and stock replenishment throughout the supply chain.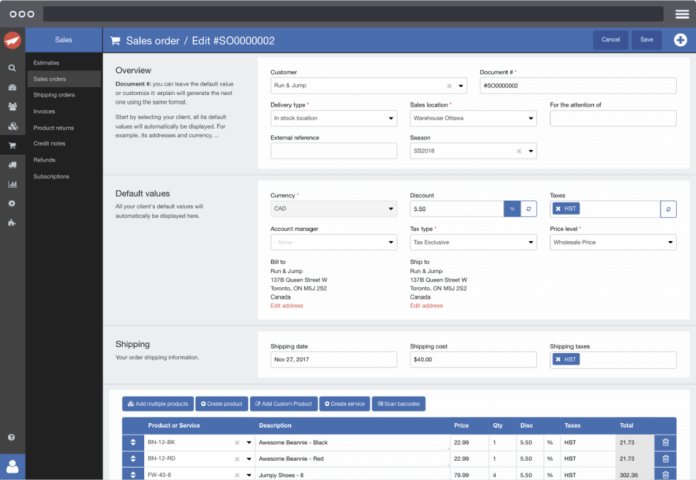 Erplain is a web-based inventory and order management system that automates sales orders, invoices, and purchase orders while updating stock in real-time. It offers an integrated suite of applications that can be accessed from any device with an internet connection. Erplain inventory management software allows its users to keep track of product inventory across multiple locations. Users can manage deliveries and keep track of unpaid invoices. You can also check your forecasts per product or storage site.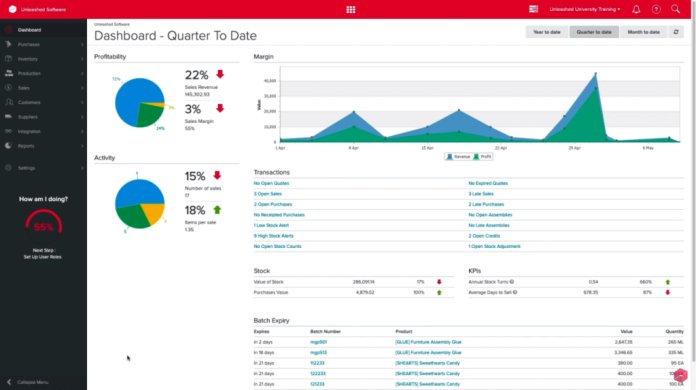 Unleashed Software provides you a powerful cloud-based platform for all your inventory management needs. Allows you to quickly and accurately track stock in real-time across multiple locations and get visibility on all inventory management and transactions across warehouses globally. With such dynamic inventory information, you can make better data-driven business decisions. Unleashed inventory management software also integrates with various eCommerce software to provide a holistic business solution.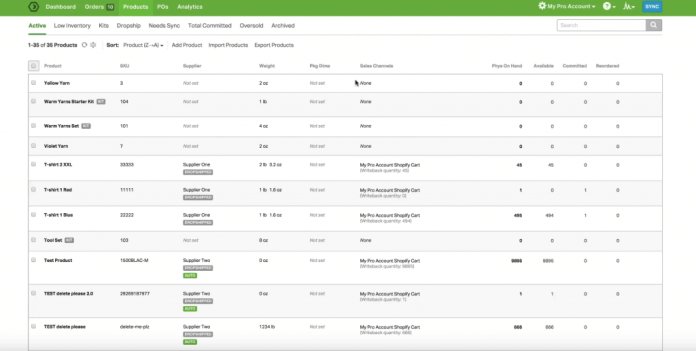 Ordoro is a cloud-based app for shipping and inventory management that consolidates all your sales channels, shippers, and vendors in one console. Enables retailers to organize all their back-office operations from a single location, enabling anyone to sell on eBay, Amazon, etc., or their website to manage. Allows users to monitor their inventory levels across all of their e-commerce accounts in one unified place. Ordoro inventory management software enables users to bundle products into kits.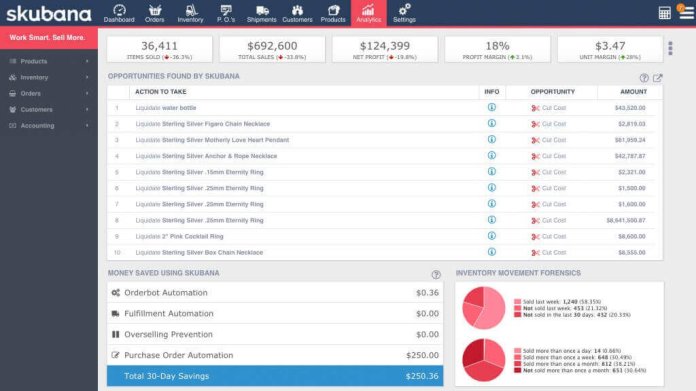 Skubana allows order fulfillment, inventory operations, and business intelligence for brands and retailers looking to achieve a multichannel and multi-warehouse business model, focusing on monitoring and growing profitability. Its multichannel inventory management features help you keep your inventory across multiple warehouses and branches organized, and you never lose track of them. Skubana inventory management software has no limitations on users, warehouses, or channels, so it is more suitable for larger teams.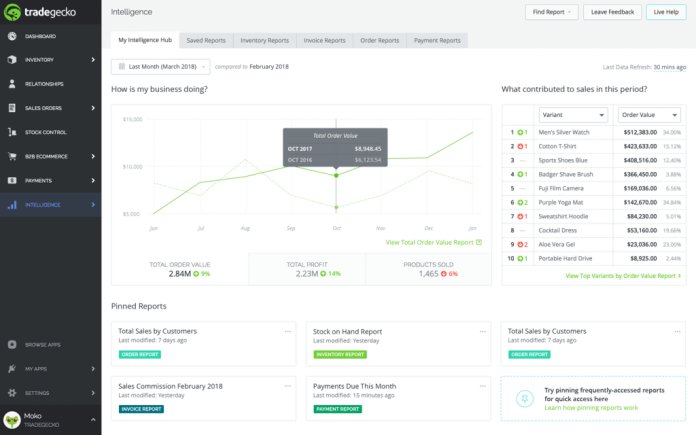 TradeGecko is a cloud-based inventory and order management software for modern online businesses. Combines sales channels, locations, and currencies so that product, order, and a customer can be managed in one place and provides a stock control and organizational platform that works with multi-channel e-commerce operations of all sizes. TradeGecko inventory management software focuses on automating tasks while improving overall accuracy and cutting costs. With multiple integrations and the ability to handle inventory for wholesalers and distributors, users can optimize essential daily tasks to increase operational efficiency and improve overall growth.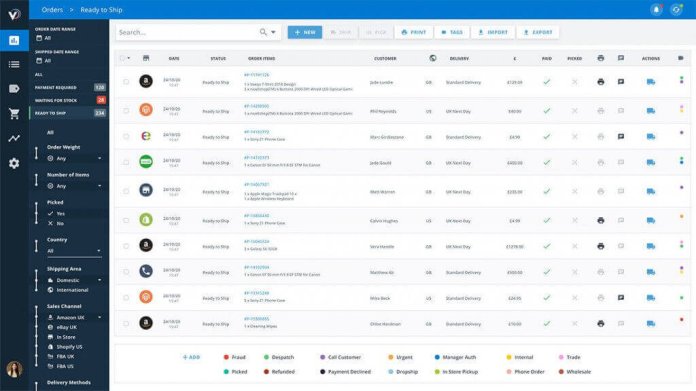 Veeqo is a web-based inventory management software designed to help retailers. You can Sync inventory across all your sales channels, forecast, reorder new stock, and manage every order. Enables you to track incoming and available inventory across multiple retail stores and warehouses, including FBA. Allows you to Pick & pack with speed and accuracy using the Veeqo Scanner. Veeqo inventory management software integrates with Shopify, Magento, BigCommerce, Amazon, eBay, etc.
Types of Inventory Management
Periodic inventory: A way of managing stock that relies entirely on stock-taking. Businesses with a regular system count their stock every 3 to 6 months to verify stock accuracy and check whether stock levels match sales figures.
Perpetual inventory: A system that includes tracking stock levels as goods are produced, sold, receipted, or returned to the store. It tends to deliver the most up-to-date inventory figures, with less dependence on stock accuracy.
Conclusion
An enterprise needs inventory software to track and manage stock accurately. Without proper inventory software, we will be working on an entirely ad-hoc basis. We will quickly run into situations where our business will be over-stock or under-stock. A large inventory carries the risk of spoilage, theft, damage, or shifts in demand. Inventory management software reduces the time and effort and informs you of the number of stocks you need to be sold at the time.